HARD RACING PERFORMANCE L.L.C.
264 Rolling Hill Rd. Mooresville, NC 28117 - 704-799-2192
ARAI HELMETS





Why Do I want an Arai Helmet.?
Because Arai Helmets are Best. And you only have ONE Head. No one thinks they may crash.
But, if you do, There is Not one person who wouldn't want the Best Protection for their head.
It can mean the difference between a slight bruise, or being in a Comma, or worse.
Don't scrimp on your helmet. It's Not worth it.
ARAI SIZING CHART
| | | | | | | | | | |
| --- | --- | --- | --- | --- | --- | --- | --- | --- | --- |
| | 21 1/4 | 21 5/8 | 22 | 22 3/8 | 22 3/4 | 23 1/8 | 23 1/2 | 23 7/8 | 24 1/4 |
| Centimeters | 54 | 55 | 56 | 57 | 58 | 59 | 60 | 61 | 62 |
| Hat Size | 6 3/4 | 6 7/8 | 7 | 7 1/8 | 7 1/4 | 7 3/8 | 7 1/2 | 7 5/8 | 7 3/4 |
| Helmet Size | S | S | M | M | L | L | XL | XL | XXL |
ARAI: Arai GP-6 SA2010


This helmet uses a Complex Laminate System for the manufacture of the strong, rigid and lightweight shell, which features the same design and shape as the other
full-face helmets in the Arai range. The helmet has a unique, high efficiency venting system and an easy to use and adjust visor opening system. Shaped interior
cheek pads give unsurpassed levels of comfort and fit while helping to reduce wind noise to aid concentration


•SA2010, Pre-drilled for HANS Device


SALE PRICE: $1,699.95





Arai GP6 RC Helmet FIA 8860:2010 Snell SAH2010 (SA2010 M6)


The Arai GP6 RC Helmet FIA 8860:2010 Snell SAH2010 is the latest Arai F1 Helmet, it was developed to meet the FIA 8860:2010 standard which is obligatory
in several national and international car racing disciplines. Constructed of Carbon Fiber.

ARAI UPDATE: The GP6 RC is available with a SNELL SAH2100 certification and a FIA 8860-2010 standard, it is supplied with factory installed M6 threaded
inserts for the hans posts, comes with Arai hans posts installed.

SALE PRICE: $3995.95



ARAI: Arai GP-6S - SA2010


This helmet uses a Complex Laminate System for the manufacture of the strong, rigid and lightweight shell, which features the same design and shape as the other
full-face helmets in the Arai range. The helmet has a unique, high efficiency venting system and an easy to use and adjust visor opening system. Shaped interior
cheek pads give unsurpassed levels of comfort and fit while helping to reduce wind noise to aid concentration.


•SA2010, Pre-drilled for HANS Device.


SALE PRICE: $949.95

ARAI: Arai GP-5W SA2010

This helmet is the result of the demand from driver in the touring car classes, where the added protection of a visor is not necessary. The GP-5W offers a large
aperture and extensive ventilation with two IC Ducts 2 at the front with the proven Delta Duct in the back. Anchor points for the HANS system are already present.


•SA2010, Pre-drilled for HANS Device

SALE PRICE: $849.95

ARAI SIZING CHART
| | | | | | | | | | |
| --- | --- | --- | --- | --- | --- | --- | --- | --- | --- |
| | 21 1/4 | 21 5/8 | 22 | 22 3/8 | 22 3/4 | 23 1/8 | 23 1/2 | 23 7/8 | 24 1/4 |
| Centimeters | 54 | 55 | 56 | 57 | 58 | 59 | 60 | 61 | 62 |
| Hat Size | 6 3/4 | 6 7/8 | 7 | 7 1/8 | 7 1/4 | 7 3/8 | 7 1/2 | 7 5/8 | 7 3/4 |
| Helmet Size | S | S | M | M | L | L | XL | XL | XXL |




*****ONLY SOLD WITH HELMET PURCHASE*****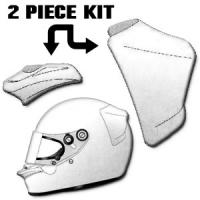 ARAI: Arai PED Kit

Arai's PED (Performance Enhancement Devices) Kit is available for the Arai GP-5 Helmets! The PED is designed to reduce lift and turbulence at high speeds
by regulating the air stream OVER the helmet. The kit also increases the ventilation effect by directing more air into the ventilation slots at the front and increases
the Venturi exhaust at the rear. The PED Kit is available in Clear plastic to allow the paint on your helmet to shine through or it can be painted to accent your
current helmet theme. Very easy to install this highly effective 2 - piece Performance Enhancement Device!


•NOTE: PED kits are CLEAR only. Customer can get them painted to match their helmet.

SALE PRICE: $109.95


ARAI: Arai Tearoffs


Keep your shields like new! A must for your Arai and Cara Coat shields - Thick (10 mil.) 5 pack factory Arai tear offs

SALE PRICE: $11.99