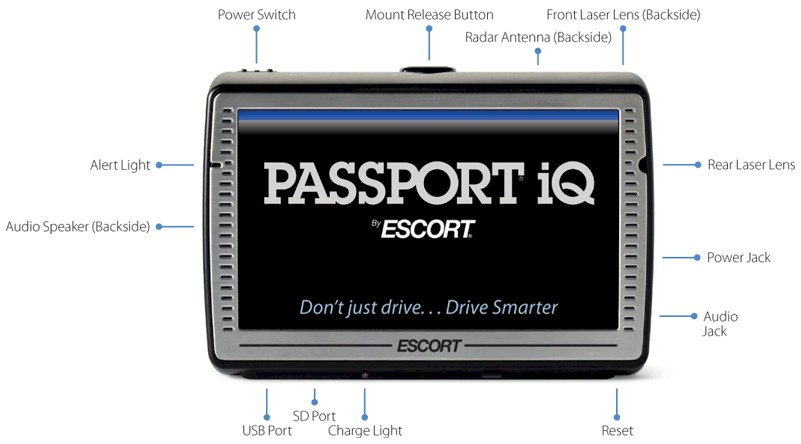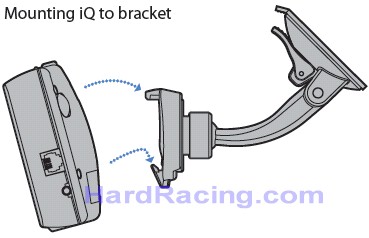 Power Switch: Switches PASSPORT iQ on or off, or locks the screen
Charge Light: Red-Unit is plugged in, and battery is not fully charged Alternating Red and Green-Battery is almost completely charged Green-Battery is completely charged
LCD Screen: 5" touch-sensitive screen
USB Port: Used only for connecting PASSPORT iQ to your PC or laptop to download software updates or charge the battery
Reset Button: Press to reset the device if unit stops responding
Power Jack (telephone-type jack): For connecting your SmartCord to power PASSPORT iQ with your vehicle's battery
Audio (Earphone) Jack: For connecting 3.5 mm mono earphone
SD Port (Micro) : For adding future optional features
Alert Light: For indicating radar or laser alerts
Rear Laser Lens: For receiving laser alerts
Audio Speaker: For audible alerts and voice prompts
External GPS Port: Accepts external GPS device for improved reception
Mount Release Button: For conveniently releasing PASSPORT iQ from the windshield mount
Front Laser Lens: For receiving laser alerts (ensure clear view of road ahead)
Radar Antenna: For receiving radar alerts (ensure clear view of road ahead)
PASSPORT iQ™ boasts the following state-of-the-art performance and features:
• Personal navigation system comes complete with Navteq mapping, branded points of interest,
speed limit data, and lane assist.
• AutoLearn™ feature automatically learns and rejects false radar sources based on exact location and frequency.
• New proprietary threat-signal ranking (TSR) software intelligently sorts, ranks, and rejects traffic-flow
monitoring false alarms automatically.
• Cruise Alert feature offers modified radar alerts within specified speeds.
• Defender Database stores thousands of red-light and fixed-position speed cameras throughout North America.
• Revolutionary AutoSensitivity™ mode provides real-time radar performance based on vehicle speed, plus
Highway and Auto No X settings.
• Mark Location feature allows you to instantly "mark" known speed traps, cameras and other places of interest.
• Exclusive SpecDisplay™ provides actual numeric frequency for any radar signal.
• Selectable radar and laser bands allow you to customize which bands are monitored.
• Exclusive SmartCord for easy access to Mute and TrueLock™ features.
PASSPORT iQ™ Includes: 5" GPS/radar/detection device, SmartCord, USB cable, Mounting bracket, Owner's Manual on CD and Quick/Reference Guide, 90 day trial for Defender® Database.
SmartCord
The SmartCord is a special power cord with a power-on indicator (which only lights up when PASSPORT iQ is turned on), a bright LED alert light that warns of radar or laser, and a mute button right on the plug for convenient access to PASSPORT iQ's Mute and TrueLock features. It's perfect for any car where reaching the device's mute button on the windshield is a stretch.
Optional Power Cords
An optional Direct-Wire SmartCord is also available. This version includes a small display module that can be wired directly into your electrical system, with a 10-ft. straight cord to route to your PASSPORT iQ.
Specifications:
Operating Bands
X-band 10.525 GHz ± 25 MHz
K-band 24.150 GHz ± 100 MHz
Ka-band 34.700 GHz ± 1300 MHz
Ku-band 13.450 GHz ± 25 MHz
Laser 904nm, 33 MHz Bandwidth

Radar Receiver/Detector Type
Superheterodyne, Varactor-Tuned VCO
Scanning Frequency Discriminator
Digital Signal Processing (DSP)

GPS Receiver
SiRFstar III

Laser Detection
Quantum Limited Video Receiver
Multiple Laser Sensor Diodes

Display Type
5" LCD Screen with OneTouch User Interface
480 x 272 Resolution

Power Requirement
12-volt DC, Negative Ground
Escort SmartCord Included

Auto-Calibration Circuitry

SmartShield VG2 Immunity

Dimensions
5.35" W x 3.71" H x 1.62" D