ORDERS:
704-799-2192



BIKE SPECIFIC
PARTS PAGES
FOR NEW
'03-'22 Models
(Grom, Monkey
Z125, RC390,
R3, R1, R6,
ZX-10, ZX6
CBR's, GSX-R's
& more)



"VIC" Repeat
Customer Discount
Program
---
TOP SELLERS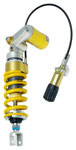 Ohlins Shocks,
Forks, & Dampers




Antigravity Superlight
Lithium Batteries
---
PRODUCT CATEGORIES

Air Filters
Engine Parts

Exhaust

Fairing Stay
Head Set Communications

Helmets
Mirrors / Mirror Block Off Plates
Race Stands

Radar Detectors

Radiator Hose Kits
Tank Traction Pads / Stomp Grip
Throttle Lock / Cruise Control
Tire Pressure Monitoring (TPMS)
Windscreens

Zombie Target

NecksGen

"VIC" Repeat
Customer Discount
Program









ICON HELMETS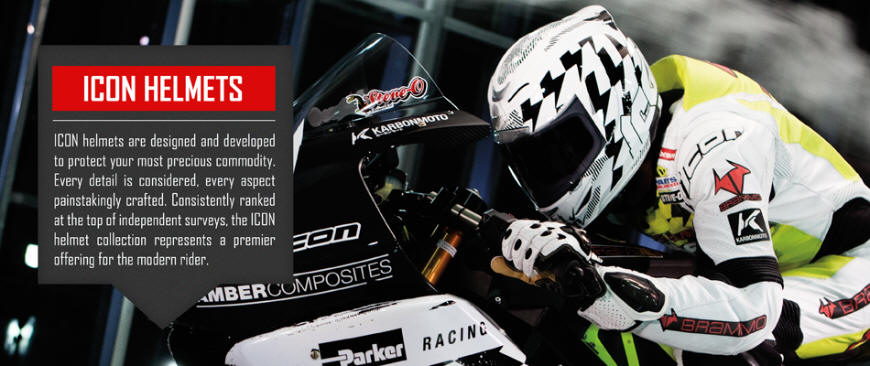 ICON Models: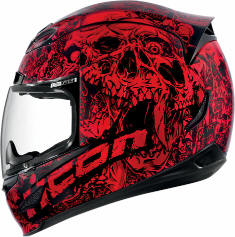 AIRMADA

All World Standard, meets or exceeds the following: DOT FMVSS 218 (US ), ECE 22-05 (EUROPE), SAI AS1698 (AUSTRALIA) & SG (JAPAN) SAFETY AND TESTING STANDARDS. does not ship with sai or sg certification stickers unless purchased from an authorized dealer in that country.
Injection molded Polycarbonate Shell for strength and durability
Recessed Twin Channel Supervent™ with industry leading intake and exhaust ports for increased cooling.
Fog-Free Icon Optics™ shield with Prolock™ shield locking system
Adjustable chin and forehead venting system maintains continual temperature for increased comfort in any riding situation.
Rapid Release™ Shield Change System
Removable molded breath deflector helps prevent fogging
Fully removable washable HydraDry™ Moisture Wicking Interior
Easy adjust ergo vent switch for superior or air flow control.
Available in four shell sizes with an Icon exclusive long oval headform for ultimate fit and comfort.
AIRFRAME

All world standard, Meets of exceeds the following: DOT FMVSS 218 (US), ECE 22-05 (Europe), SAI AS1698 (Australia) & SG (Japan) safety and testing standards. Does not ship with SAI or SG certification stickers unless purchased in that country.
Carbon fiber shell
1450 grams in size medium (+/-50 grams)
Medium Oval Headform
Wind tunnel tested and refined
Multiple oversized intake and exhaust ports
Removble molded breath deflector reduces shield fogging
Quick-change fog-free Proshield™ with sideplates
Fully removable/washable HydraDry™ interior
Rear spoiler for reduced helmet buffeting
Prolock™ secure shield locking system
Removable chin curtain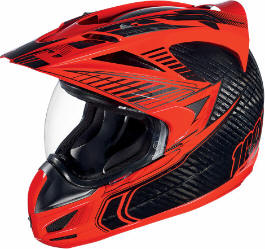 VARIANT

All world standard, meets or exceeds the following:DOT FM VSS 218 (US), ECE 22-05 (EURO PE), SAI AS1698 (AUSTR ALI A) & SG (JAPAN)S AFET Y AND TESTING SANDARDS . does not ship with sai or sg certification stickers unless purchased from an authorized dealer in that country.
Carbon fiber shell
Long oval headform
Wind tunnel tested and refined
Anti-lift visor to reduce glare
Multiple oversized intake and exhaust ports
Molded EPS nose reduces shield fogging
Quick-change fog-free shield
Fully removable/washable HydraDry™ interior
Rear spoiler for reduced helmet buffeting
Removable chin curtain
Reflective Graphics on Hi-Viz and Reflective Black Helmets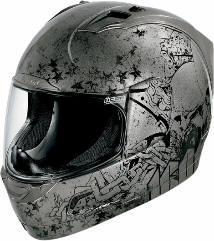 ALLIANCE

All World Standard, meets or exceeds the following DOT DMVSS 218(US), ECE 22-05(Europe), SAI AS1698 (Australia) & SG (Japan) safety and testing standards. Does not ship with SAI or SG certification stickers unless purchesed from an authorized dealer in that country
Injection molded polycarbonate shell for strength
Long oval headform
Wind tunnel tested and refined
Molded twin channel supervent for increased cooling
Rear exhaust ports prevent heat buildup
Removable molded breath deflector reduces shield fogging
Chin venting system reduces shield fogging
Fully removable/washable HydraDry™ interior
Quick-change fog-free Proshield™ with sideplates
Prolock™ shield locking system



E-mail or Call (704-799-2192) to for assistance on your Icon Application