ORDERS:
704-799-2192



BIKE SPECIFIC
PARTS PAGES
FOR NEW
'03-'19 Models
(Grom, Monkey
Z125, RC390,
R3, R1, R6,
ZX-10, ZX6
CBR's, GSX-R's
& more)



"VIC" Repeat
Customer Discount
Program
---
TOP SELLERS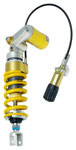 Ohlins Shocks,
Forks, & Dampers




Antigravity Superlight
Lithium Batteries
---
PRODUCT CATEGORIES

Air Filters
Engine Parts

Exhaust

Fairing Stay
Head Set Communications

Helmets
Mirrors / Mirror Block Off Plates
Race Stands

Radar Detectors

Radiator Hose Kits
Tank Traction Pads / Stomp Grip
Throttle Lock / Cruise Control
Tire Pressure Monitoring (TPMS)
Windscreens

Zombie Target

NecksGen

"VIC" Repeat
Customer Discount
Program




BRAKING USA - ROTORS & StremX Floating Rotors


StremX Round Rotors

StremX Rotors



Rear Rotors Round/

CM55
Brake Pads

CM66
Brake Pads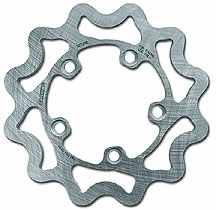 BRAKE ROTORS
BRAKING's primary objective is producing hi-quality stainless steel brake rotors at great prices. The high-carbon-content stainless steel rotors produced by BRAKING offer optimal mechanical characteristics, especially at high running temperatures. Each rotor goes through a special treatment cycle to ensure it is perfectly flat. They are also put through a precise heat treatment process while adhering to the highest ISO standards. These treatments offer a high coefficient of friction while minimizing the amount of wear on the brake pads. Each disk is stamped with the part number, minimum allowable thickness, TUV-Abe validation and other codes used by BRAKING for tracking the product. In our catalog, there are almost 400 different codes for over 2000 models of motorcycles, ATVs and snowmobiles. Our line of rotors can be divided into the following groups: standard, floating, polished, special performance kits. Rotor styles can and do blend into other groups. If you don't see what you want in one group, check another.

Finally, we arrive at our

Rotors. We could go on forever trying to convey the real meaning of the concept of the

Disk. This somewhat strange disk has been in development for a long time and has finally come to be. The real essence of this brake disk is that the braking has nothing to do with the disk, yet the disk means everything. Confused? Don't be; read on. It is not so much the surface area of the disk which creates better stopping power. It is the efficiency in which it utilizes all the pads surface evenly, the elimination of lightening holes (for added strength) and the ability to expand and contract as it heats up without warping the disk. Simply put, these disks use all pad surfaces for maximum stopping power while remaining perfectly flat. This design is covered with an international license. Our know-how regarding materials and applications of such allow us to produce perfect disks. Long-term tests, first in our labs, then on motorcycles, prepared us for a series of future projects which we will soon be introducing utilizing this

technology.
Braking USA SK2 FRONT BRAKE DISCS

-After five years of successful results and winning seven world titles, Braking launches the second generation of their SK
-SK2 has a directional aluminum carrier, which is 9% lighter than the previous one, a new profile for its outer ring thanks to cooperating with the strongest teams in the world, and a directional seat with a 14° angle
-Provide FAST reaction and the best lever feel during racing conditions
-Precise direction of rotation designed to permit better ventilation capability, maintaining the coolest temperature possible during aggressive use
-Sold each
Sale Price - $275.36
Braking USA BATFLY STRADA FRONT BRAKE DISKS

-After testing it for years in the racing world, Braking launches the new BATFLY® rotor
-BATFLY STRADA offers a directional carrier, lighter than the previous version - nine instead of 12 rivets, a directional seat with a 14° angle and a new outline for the self-ventilating outer ring, which improves the heat dissipation on the ring
-This rotor is the result of cooperating with the strongest teams in the world, thus creating a unique product as for brake power progression
-Thanks to this new light version, BATFLY STRADA's weight is now very similar to that of the SK2
-Sold each
Sale Price - $358.16
NON-DIRECTIONAL STX REAR ROTORS

-Braking's original outer profile design – floating and constructed of only the highest quality stainless steel, capable of expanding and contracting under hot temperatures, without warping
-320mm outer diameter – perfect for off-road to supermoto conversion; must use 320mm Caliper Bracket
-Alloy center for less weight, helps get the bike in and out of turning angles quicker
-Provides much stronger braking power, but with improved feeling – leading to increased overall performance and handling of the bike
-A great combination of improved performance and appeal
-Sold each
Sale Price Starting at - $116.06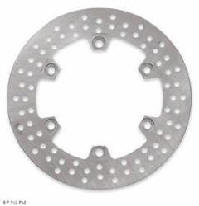 ROUND REAR BRAKE ROTOR

-Superior materials provide unmatched friction, feel and heat dissipation
-Extensive racing experience combined with cutting-edge technology provides superior brake systems
-CAD/CAM laser process produces exceptionally light and stress-free rotors
-Heat-treated according to its mass, thickness and targeted use
-Diamond surface finish is applied for perfect symmetry, flatness and balance
-Provide maximum stopping power while remaining perfectly flat
-Design is covered by an international license
-Sold each
Sale Price - $116.06