ORDERS:
704-799-2192



BIKE SPECIFIC
PARTS PAGES
FOR NEW
'03-'22 Models
(Grom, Monkey
Z125, RC390,
R3, R1, R6,
ZX-10, ZX6
CBR's, GSX-R's
& more)



"VIC" Repeat
Customer Discount
Program
---
TOP SELLERS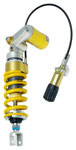 Ohlins Shocks,
Forks, & Dampers




Antigravity Superlight
Lithium Batteries
---
PRODUCT CATEGORIES

Air Filters
Engine Parts

Exhaust

Fairing Stay
Head Set Communications

Helmets
Mirrors / Mirror Block Off Plates
Race Stands

Radar Detectors

Radiator Hose Kits
Tank Traction Pads / Stomp Grip
Throttle Lock / Cruise Control
Tire Pressure Monitoring (TPMS)
Windscreens

Zombie Target

NecksGen

"VIC" Repeat
Customer Discount
Program




Carrozzeria Wheels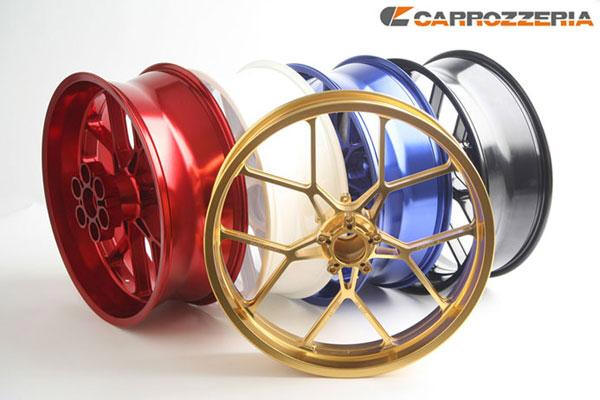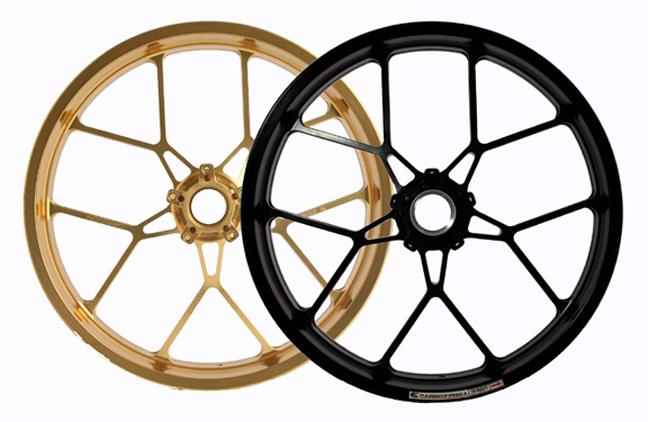 Carrozzeria Forged wheels are designed for race, street and track applications. Made from super durable forged aluminum (6151-T6), Beautiful Y spoke star design. One piece CNC front hub design. Double cush drive system for high HP applications. AMA PRO Racing certified for American Superbike2011.

Lighter - Stronger - Beautiful - Priced Right

REDUCING THE WEIGHT OF YOUR WHEELS IS THE MOST IMPORTANT PERFORMANCE CHANGE
THAT YOU CAN MAKE TO YOU MOTORCYCLE!

Lighter wheels will make a major difference in the handling of your bike.
They will also greatly improve the acceleration and deceleration "braking" of your bike for the following reasons.

Static Weight: Each ounce of reduction of the wheels weight is equivalent to 4 ounces on the sprung part of the bike. Magnesium wheels will normally weigh at least 10 pounds less than your stock aluminum wheels. This is equal to 40 pounds of weight reduction on the bike.

Dynamic Weight: This is the weight reduction on the rim of the wheel and this is where the action is. EACH OUNCE OF WEIGHT REDUCTION ON THE RIM IS EQUAL TO ABOUT 24 POUNDS OF WEIGHT AT 100 MPH!
Carrozzeria
VTRACK** FORGED WHEELS SETS

Starting at only - $2099

APEX 6 FORGED WHEELS SETS
Starting at only - $2249

** Carrozerria VTrack Wheels are Made of 6151 T-6 Forged Aluminum, Designed for Street/Race Applications These are "Bolt On Type" which accepts the stock front and rear brake rotors. Comes with Cush Drive, Carriers, Spacers, Bearings and Valve Stems. Requires a Kawasaki Bolt Pattern Rear Sprocket.

Click here -> Information <- To Learn and Understand Why Weight Reduction On Rims Is So Important... And Will Help You Go Faster Easier.

Carrozzeria BARE WHEEL WEIGHTS
V-Track front 6.1 lbs
V-Track single sided rear(Ducati) 7.4 lbs
V-Track 6.0 inch standard rear 9.1 lbs
TRI-R front 5.9 lbs
TRI-R 6.0 inch rear 8.5 lbs
2004-2012 Yamaha R1 completely assembled front with bearings and spacer 7.3 lbs
2004-2012 Yamaha R1 completely assembled rear with bearings, spacers, rear disc carrier and cush drive 11.0 lbs. With sprocket carrier and sprocket (basically ready to install) 13.4 lbs

Carrozzeria Wheel FAQ's :
What Comes in a Carrozzeria Standard Wheel Set?




All Wheel Sets come with High Quality Japanese Bearings, Cush Drive, Rotor Carriers, Valve Stems, Sprocket Carrier and Spacers. Most applications do require a Kawasaki Bolt Pattern Sprocket.
Will my Standard OEM Rear Sprocket Fit?

Most Applications require a Kawasaki Bolt Pattern Rear Sprocket (call for application)

520 Chains = ZX-6R (2003-Current), 525 Chains = ZX-10R (2003-Current) and 530 Chain = ZX-12R (2002-2006)

Do your front wheels come with Oil Seals?
Aftermarket type wheels like ours no longer utilize front oil seals.
Why do your wheels require a lower torque value for the axles?

Our wheels utilize larger bearings and aluminum distance tubes, as oppose to the smaller bearings and steel distance tubes found on stock/OEM wheels.
What Colors/Finishes are Available for Carrozzeria Forged Wheels?

We offer the following colors:

Anodized: Gloss Black, Gloss Red, Gloss Blue, Gloss Bright Gold, Gloss Orange, Satin Black,
Satin Blue, Satin Red, Satin Gold & Satin Gray

We do also offer Powdercoated options: Gloss Hi-Vis Yellow, Gloss White, Metallic Green &
Gloss Purple

What's the best way to clean/care of Anodized Finishes?
Working extensively with our vendors, they recommend using "Pledge" Furniture Polish. This might sound odd but it does wonders to Anodize.
Are your Forged Wheels designed for the Street or Track?

Our Wheels are actually designed for both.

We have developed our products to be strong enough to withstand the demands of urban street riding, but yet light enough and durable for the track rider. Sure there are products that are lighter on the market, but none of which that are strong enough to withstand street requirements like ours.

Where are your products made?
Our Forged Material comes from Japan, and CNC'd machined here in California USA.
Is your polished wheels Clear Coated?

The Hi Gloss Polish Finish are not clear coated and do require cleaning and regular polishing with products such as "Mothers Wheel Polish".