ORDERS:
704-799-2192



BIKE SPECIFIC
PARTS PAGES
FOR NEW
'03-'22 Models
(Grom, Monkey
Z125, RC390,
R3, R1, R6,
ZX-10, ZX6
CBR's, GSX-R's
& more)



"VIC" Repeat
Customer Discount
Program
---
TOP SELLERS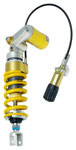 Ohlins Shocks,
Forks, & Dampers




Antigravity Superlight
Lithium Batteries
---
PRODUCT CATEGORIES

Air Filters
Engine Parts

Exhaust

Fairing Stay
Head Set Communications

Helmets
Mirrors / Mirror Block Off Plates
Race Stands

Radar Detectors

Radiator Hose Kits
Tank Traction Pads / Stomp Grip
Throttle Lock / Cruise Control
Tire Pressure Monitoring (TPMS)
Windscreens

Zombie Target

NecksGen

"VIC" Repeat
Customer Discount
Program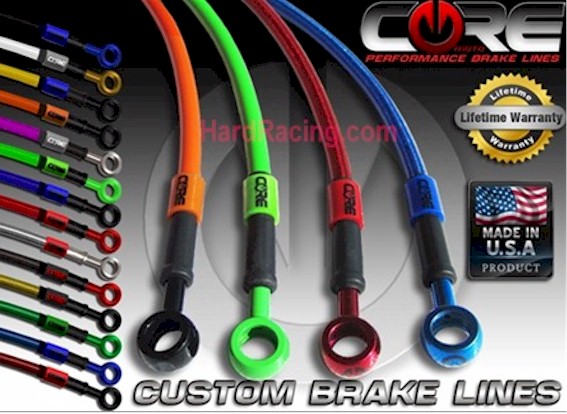 CORE MOTO Stainless Steel Brake Lines

Core Moto Stainless Brake Lines are manufactured out of 100% Stainless Steel.
Core Moto Lines, use a Cold drawn high tinsel 32 strand, stainless steel braid.
They are made in the U.S.A. out of 100% Stainless Steel materials with a LIFETIME WARRANTY
against leaks, breaks, ruptures and any type of failure of function.

D.O.T. Approved

ALL Core Moto Stainless Brake Lines are made with STAINLESS Banjos.
They DO NOT put Aluminum banjos on the ends of their lines, only Stainless.

The kits include Stainless brake lines, new stainless bolts and copper washers.
Also included are routing instructions, brake bleed guide and Core Moto stickers.

Line material from other companies may look the same but the real quality lies in the chemistry and
composition of the materials being used. Core Moto uses Teflon® core stainless steel lines that can be
bent 18,000,000 times before rupture compared to only 750,000 bends of the standard PTFE used by
some other companies. Core Moto's Hoses have been batch tested to 18,000 psi without failure.
(normal motorcycle braking pressure is 800 - 1,000 psi) Most companies only test assemblies up to to 5,000 psi.
We choose to use line material that out performs industry standards.

Core Moto Stainless Lines are custom made for your preference.
Customers have the choice of Jacket color, Banjo Color and Logo Color.
There are many different color combinations for almost any bike.

Why Choose Stainless over Rubber hoses?

OEM rubber hoses expand and swell, especially under extreme braking conditions.
This expansion results in what is often described as a spongy feel or brake fade.
Most motorcycle manufacturers recommend that your OEM rubber brake lines be replaced
every 4 years when used under normal conditions.
Core Moto Stainless Brake Lines are good for the life of the motorcycle.

Core Moto Stainless Brake Lines lines Do Not expand under pressure or fatigue. All braking input
is transmitted from the master cylinder directly to the calipers, giving you complete control, feel and
feedback from the final point in the braking system. Total brake response and performance is improved
with this often overlooked yet simple modification.

Core Moto Stainless Brake Lines - Starting at $69 Click here to order:
D.O.T. Approved

STEP 1 -- Choose Your Line Color


Core Moto stainless steel brake lines are made using only top grade materials and construction.
Each line features an inner core Teflon® hose wrapped tightly in a cold drawn high tinsel 32 strand,
stainless steel braid. All lines are then coated with a flexible PVC outer shell for superior strength,
corrosion resistance and abrasion protection. Available in 19 color options.

STEP 2 -- Choose Banjo End Fitting Color


All Core Moto banjo fittings are CNC machined and polished high grade stainless steel. (NOT ALUMINUM)
Even Core Moto's Colored banjo fittings are stainless. With ten different colors to choose from, Core Moto
has the largest selection of color options on the market.

Core Moto color banjo fittings are NOT aluminum, they are NOT COLOR ANODIZED. So, color fade from
sunlight exposure as seen in anodized aluminum banjos is not a problem with Core Moto brake lines.
Core Moto Stainless steel end fitting colors are achieved by a specially developed powder coat material
and process specific to our application and product.


STEP 3 -- Choose CORE Logo Tag Color


The Core Moto name is stamped into the swag collar on every line. This is required for warranty service.
Additionally most of our banjo fittings will show a laser etched Core Moto symbol on the end.
To complete the custom look Core Moto offers several different logo tag colors to choose from.

Blacked Out Collars


For those that choose not to shine we have you covered. Core Moto's "Black Out" feature will cover the collar
with adhesive lined thermo formed covering, also required by DOT standards. This added feature COMES STANDARD
on all lines we make at no additional charge. If you do not want this feature, you must request (no black out)
in your order notes at time of purchase. Otherwise this covering can be removed by the end user if desired.


Included Hardware



All Core Moto Stainless Brake line kits come with CNC machined stainless steel banjo bolts and copper crush washers.
Our stainless banjo bolts have a low profile head with a lightened concave dish in the top for weight reduction
and a nice finished performance look.





Core Moto Stainless Brake Lines - Starting at $69 Click here to order: