ORDERS:
704-799-2192



BIKE SPECIFIC
PARTS PAGES
FOR NEW
'03-'17 Models
(Grom, Z125, RC390,
R3, R1, R6,
ZX-10, ZX6
CBR's, GSX-R's
& more)



"VIC" Repeat
Customer Discount
Program
---
TOP SELLERS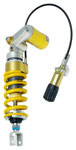 Ohlins Shocks,
Forks, & Dampers




Antigravity Superlight
Lithium Batteries
---
PRODUCT CATEGORIES

Air Filters
Engine Parts

Exhaust

Fairing Stay
Head Set Communications

Helmets
Mirrors / Mirror Block Off Plates
Race Stands

Radar Detectors

Radiator Hose Kits
Tank Traction Pads / Stomp Grip
Throttle Lock / Cruise Control
Tire Pressure Monitoring (TPMS)
Windscreens

Zombie Target

NecksGen

"VIC" Repeat
Customer Discount
Program







SENA 20S Bluetooth Headset communication
SENA 10C Bluetooth Headset communication w/ Built in HD Video Camera


Sena Technologies, Inc. is a leading provider of Bluetooth® communication devices,
including Bluetooth® motorcycle intercom.

Sena has been a leading provider of Bluetooth® communication systems
for power sports and other outdoor activities.





The SENA 20S is a State-of-the-art Motorcycle & Powersports Bluetooth® communication system.
The unit provides a sleek and aerodynamic design that offers a versatile jog dial that maximizes
the ease of use for riders.

The 20S features several industry firsts for the motorcycle Bluetooth® communication headset market.
One industry first is the introduction of Bluetooth® 4.1 Technology with dual Bluetooth®
communication modules, to create one of the most advanced Bluetooth® headsets on the market.
The Bluetooth® technology increases the performance and reliability of the headset while also allowing
for increased high definition audio quality.

The advanced Audio Multitasking™ allows for seamless blend of incoming and outgoing audio
to create a mixed audio experience versus the traditional interruption based audio technology
of other Bluetooth® devices.

With the 20S, users can call hands free with their Bluetooth® mobile phones, listen to stereo music
or voice instructions of GPS navigation by Bluetooth® wirelessly, and have intercom conversations
in full duplex with a passenger or other riders.


Sena 20S Communication System
Features :
- Includes Bluetooth 4.1, Quick pairing.
- Talk time: 13 Hours Stand-by: 10 days
- Universal Intercom™: intercom with other brand communication systems.
- Intercom working distance up to 2.4km (1.5 miles) in open terrain.
- Intuitive voice prompts and commands.
- Water resistant for use in inclement weather.
- Advanced Noise Cancellation™.
- Firmware upgradeable.
- 2-year Manufacturer's Warranty
- Audio Multitasking™: advanced audio management of intercom, phone, music & FM radio (patent pending)

Key Points:
- Long Lasting Battery life
- Excellent Clarity
- Expandable
- Listen to your music
- Answer or make Phone calls
- Water Resistant
- Easy to setup and use right out of the box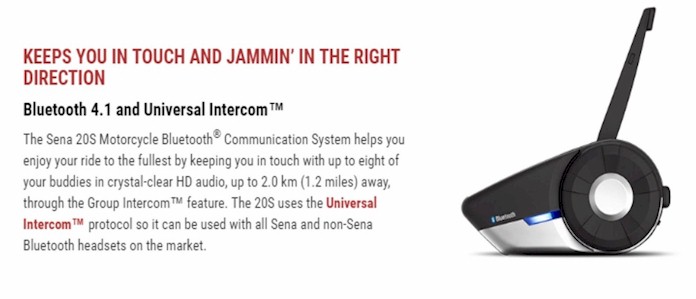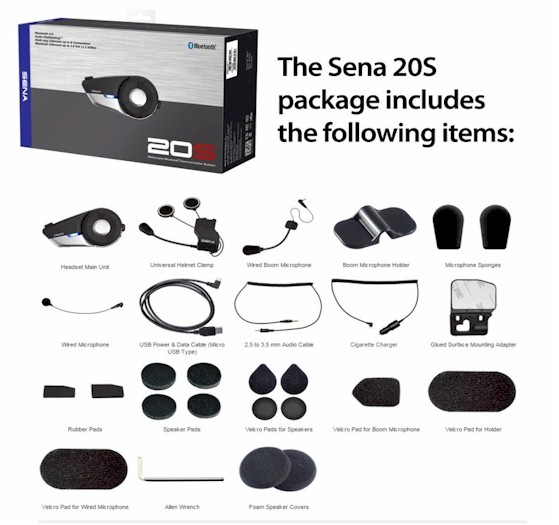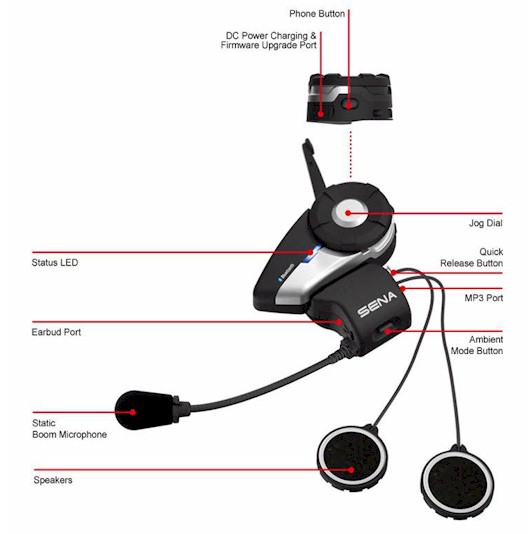 SENA 20S Bluetooth 4.1 SINGLE Communication System for Motorcycles (1 Set)
20S-01 Retail - $330 On Sale $269.10


SENA 20S Bluetooth 4.1 DUAL Communication System for Motorcycles (2 Sets)
20S-01D Retail - $570 On Sale $494.10


Watch Out PRODUCT VIDEO >> SENA 20S <<

++++++++++++++++++++++++++++++++++++++++++++++++++++++++++++++++++++++++++++++++++++++++++++++++++++


Sena 10C Bluetooth Helmet Communication w/ HD Camera Built in.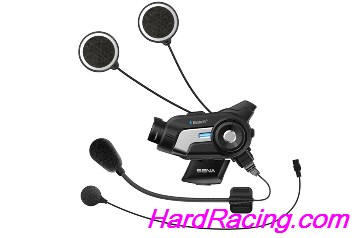 Sena 10C

The 10C is the world's first look at a fully integrated Bluetooth helmet communication system and HD camera
rolled into one powerful device. It's capable of full HD video (1080p:30fps and 720p:30/60fps) with 3.5 MP still
shot image capture and shot, burst and time-lapse photo modes. Built to handle with ease the rigorous demands
of outdoor sports, motorsports, and first responders, it is the complete solution for in-helmet communication and
action videography under challenging conditions.

Sena 10C-01 Communication System
Features :
- Includes Bluetooth 4.1 and 1080p Full HD video with 3.5MP still shot image capture
- Talk time: 17 Hours
-Recording time: 2 hours
- Universal Intercom™: intercom with other brand communication systems.
- Intercom Working distance: up to 1.6 kilometers (1.0 mile) in open terrain
- Intuitive voice prompts and commands.
-Supports up to 4 riders
- Water resistant for use in inclement weather.
- Advanced Noise Cancellation™.
- Firmware upgradeable.
- 2-year Manufacturer's Warranty
- Audio Multitasking™: advanced audio management of intercom, phone, music & FM radio (patent pending)

Key Points:
- Long Lasting Battery life
- Excellent Clarity
- Expandable
- Listen to your music
- Answer or make Phone calls
- Water Resistant
- Easy to setup and use right out of the box


SENA 10C-01 Bluetooth 4.1 SINGLE Communication System for Motorcycles
10C-01 Retail - $366 On Sale $349.00