ORDERS:
704-799-2192



BIKE SPECIFIC
PARTS PAGES
FOR NEW
'03-'22 Models
(Grom, Monkey
Z125, RC390,
R3, R1, R6,
ZX-10, ZX6
CBR's, GSX-R's
& more)



"VIC" Repeat
Customer Discount
Program
---
TOP SELLERS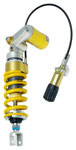 Ohlins Shocks,
Forks, & Dampers




Antigravity Superlight
Lithium Batteries
---
PRODUCT CATEGORIES

Air Filters
Engine Parts

Exhaust

Fairing Stay
Head Set Communications

Helmets
Mirrors / Mirror Block Off Plates
Race Stands

Radar Detectors

Radiator Hose Kits
Tank Traction Pads / Stomp Grip
Throttle Lock / Cruise Control
Tire Pressure Monitoring (TPMS)
Windscreens

Zombie Target

NecksGen

"VIC" Repeat
Customer Discount
Program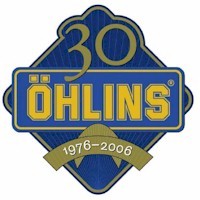 OHLINS Shocks / OHLINS CARTRIDGE KITS / OHLINS STEERING DAMPERS
OHLINS Forks / OHLINS TTX and TTX MKII SHOCKS
If you follow motorsport, especially on two wheels, there's a good chance we don't need to tell you anything more about Ohlins. If they aren't a name you're familiar with, or they are just a word on the side of your Double Barrel with a funny umlaut over the 'O,' then understanding who they are and what they do helps put this shock into context. Started in Sweden by Kenth Öhlin in 1976, his suspension was piloted to its first Motocross World Champion title just two years later by Gennady Moiseev. From there, they built a reputation for making the best suspension in two-wheeled motor racing and, more recently, four-wheeled as well. In 2007, the company celebrated the 200th world title for racers using their shocks and forks.

Browsing through their hall of fame, the names include icons like Valentino Rossi, Casey Stoner, Nigel Mansell, Alain Prost, Tommy Makkinen and Juan-Pablo Montoya. It's an impressive pedigree, no doubt, spanning MotoGP, Formula One, WRC, Indy 500, Les Mans, and nearly any other type of racing that involves an engine and, more importantly, suspension. There is something that makes their record even more incredible, Öhlins have never sponsored anyone with free suspension. Every single one of those racers and teams who won on Öhlins suspension had to pay to use it.

" For sure, it has happened that riders have got things free from other companies and left us, but they have, for the most,
returned to us after a month or two. " - Kenth Ohlins

The TTX isn't Öhlins' first foray into bike suspension. They were responsible for the 46PRXLS, which is widely recognised as the shock that all others are measured against today. At the time, the Double Barrel was the best shock that Öhlins could make, and we are sure that if they felt it wasn't up to scratch, it would have never seen the light of day with the Öhlins name associated to it. The Double Barrel, however, was designed seven years ago, and Öhlins has learned a lot more about suspension since...
| | | |
| --- | --- | --- |
| Marq Marquez : Factory Honda | Valentino Rossi : Factory Yamaha | Jorge Lorenzo : Factory Yamaha |
| Dani Pedrosa : Factory Honda | Andrea Dovizioso : Factory Ducati | Cal Crutchlow : Factory Ducati |
| Nicky Hayden : Aspar Honda | Bradley Smith : Monster Tech 3 | And Nearly Every World Superbike Team All use Ohlins Suspension |
| Roger Hayden: AMA Factory Suzuki | Josh Hayes : Factory Yamaha AMA | Martin Cardenas : Factory Suzuki |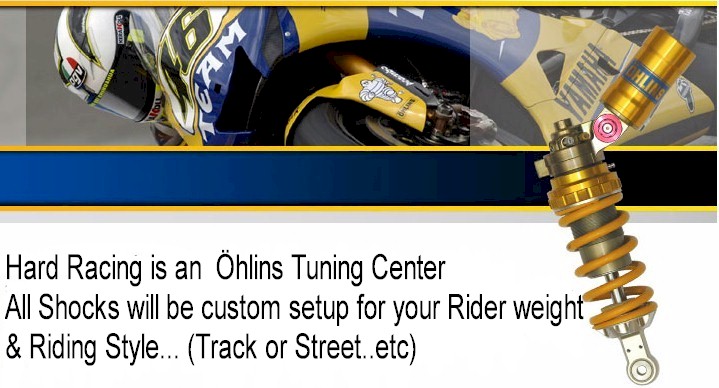 | | | | | |
| --- | --- | --- | --- | --- |
| | | | | |
As used By most ALL Top Riders, WORLD WIDE:
Moto GP Factory Yamaha : Valentino Rossi, Jorge Lorenzo
Moto GP Factory Honda : Marq Marquez, Danny Pedrosa
Moto GP Factory Ducati : Andrea Dovizioso, Cal Crutchlow
Moto GP Aspar Honda : Nicky Hayden, Hiroshi Aoyama
Moto GP Monster Tech 3 : Bradley Smith, Pol Espargaro

WSB Factory Yamaha:
WSB Factory Ducati:
WSB Factory BMW :
WSB Corona Suzuki :
WSB Ten Kate:

AMA Factory Ducati:
AMA Factory Kawasaki:
AMA Factory Yamaha Graves:
AMA Factory Honda (Erion):

Amazingly, Ohlins does NOT Sponsor these Factory teams.
They actually PURCHASE Ohlins Products.
That's how good Ohlins is.

Key Benefits of Ohlins Suspension
Fine Swedish quality
Easy to adjust
Large Selection of Spring Rates
Fully Rebuildable
Detailed Service Manual Included
Excellent U.S. Tech. Support (Ohlins USA)

More Teams across the world use Ohlins Suspension.
Regarded as the highest quality, and finest craftsmanship.
Ohlins, the name is synonymous with performance.
Ohlins offers the finest suspension components available.

Why Ohlins? Perhaps the best reason is that replacements to exactly match the stock components are readily available. Then there's the added convenience of the rear shocks remote preload adjuster on Select Models, especially handy for those occasional two-up. Add to that Ohlins sterling reputation for reliability and adjustability, and many people's opinion that there just isn't a finer shock made. Top it off with a source that sells at bargain basement prices (comparatively speaking, that is), and it makes little sense to consider alternatives.
Ohlins is the Best Suspension.



ALL Shocks purchased from Hard Racing will be custom setup for your Riding weight, and style, by the PROFESSIONALS. (Ohlins USA)
VIEW OHLINS CATEGORIES :

Ohlins Shocks




Ohlins Dampers



Ohlins SS Valve
Kits & Springs

Ohlins Forks
Fork Springs,
Fork Extenders

Ohlins Fork Cartridge Kits
& Fork Springs,
and Fork Extenders