ORDERS:
704-799-2192



BIKE SPECIFIC
PARTS PAGES
FOR NEW
'03-'20 Models
(Grom, Monkey
Z125, RC390,
R3, R1, R6,
ZX-10, ZX6
CBR's, GSX-R's
& more)



"VIC" Repeat
Customer Discount
Program
---
TOP SELLERS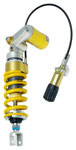 Ohlins Shocks,
Forks, & Dampers




Antigravity Superlight
Lithium Batteries
---
PRODUCT CATEGORIES

Air Filters
Engine Parts

Exhaust

Fairing Stay
Head Set Communications

Helmets
Mirrors / Mirror Block Off Plates
Race Stands

Radar Detectors

Radiator Hose Kits
Tank Traction Pads / Stomp Grip
Throttle Lock / Cruise Control
Tire Pressure Monitoring (TPMS)
Windscreens

Zombie Target

NecksGen

"VIC" Repeat
Customer Discount
Program




Micron Serpent Headers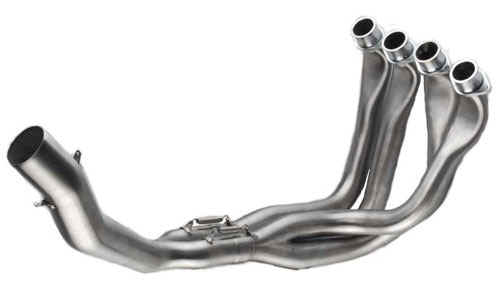 2006 R6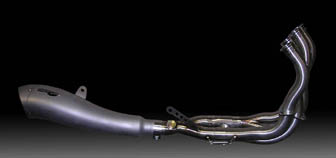 Micron Serpent Full System
See Dyno Graph >>

IN STOCK
Micron is proud to announce the awesome 6th Generation Serpent design is now in stock and available for the 2006 Yamaha R6. Specifically designed for the all new "Moto GP" look, Micron takes hydroforming to the next level with not only a fully hydorformed header (just over 5 lbs of engineering excellence!), but the incredible Serpent GP muffler is also fully hydroformed to match the sculptured design of the new Yamaha.


'04-'05 CBR1000RR Dyno Chart





Huge HP & Torque Increase Everywhere.
And NO loss in Power ANYWHERE.


2004 R1 Dyno & Torque Chart




Huge HP & Torque Increase Everywhere.
And NO loss in Power ANYWHERE.



2003 ZX-12R Dyno Chart

Base Run - 164.4 hp ALL NEW MICRON SERPENTS - 180.6 hp
Note - This was Run with a Dyno Tuned PCIIIr Map... and May not be typical of all bikes.
CBR929RR Dyno Chart
Base Run - 121.2 hp
ALL NEW MICRON SERPENTS - 137.5 hp

2001 GSX-R1000R Dyno Chart
Base Run - 140.5 hp ALL NEW MICRON SERPENTS - 160.6 hp
Note - This was Run with a Dyno Tuned PCIIIr Map... and May not be typical of all bikes.
* GSX-R 1000 w/ Micron Slip-On(Half System) & PCIII
*RC-51 w/ Full Micron Race Exhaust w/ PCIIIr
<< - RETURN TO MICRON PRICE SHEET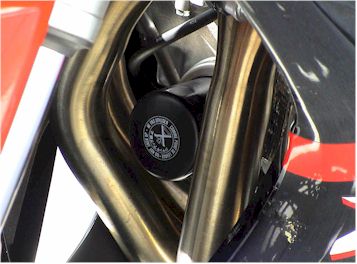 Whenever possible, Micron has made the Serpent Header Route Around the Oil Filter, for easy access.
CBR929 / CBR954 Shown.
Introducing the most technically advanced pipework sets in the world
The first of the revolutionary Micron Serpent (patent pending and design registered) exhausts have arrived in the US and have been dyno tested. The results are astounding!. The production line Serpent pipe out performed a standard (conical tube) headpipe by 3-5 horsepower throughout the powerband. This indisputable power advantage combined with other advantages associated with Micron's industry exclusive Hydra-forming technique put Micron put Micron decidedly at the top of the performance world. Please refer to dyno graph for specifics.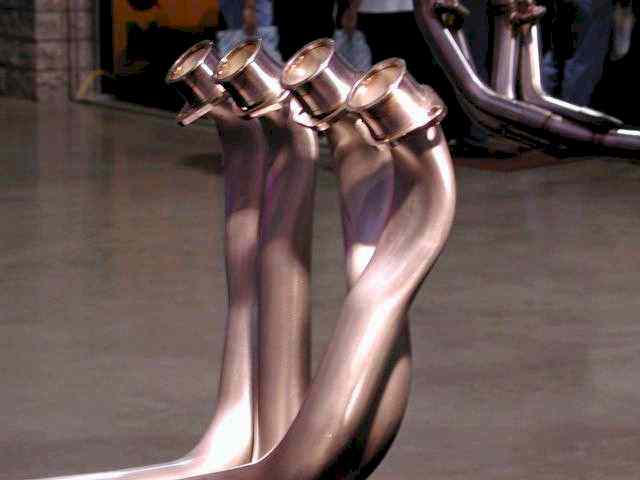 For those who wish to read, here is some common information requested by our customers about the new Serpent headpipe designs…
Background: Serpent headers are the end result of our engineers dreams of virtually perfect gas flow in a tube environment, theories which have been tossed back and forth in our R&D for over 20 years. Fluid flow characteristics have been known for many years, you see their application in airplane flight uses every time you see one in the sky above you. But applying this theory to exhaust system design, and then overcoming the massive design and manufacturing difficulties in making these theories a reality is what Micron has been leading itself towards for the last 20 years. This why Micron is the only company to be offering such designs, and why other companies are many years behind in catching up to what we believe is the future of exhaust design. The first automobiles conceived were powered by steam engines, and ill informed people said that gas powered engines would never make it. The technology behind Serpent header designs is like the gasoline engine, for 20 years we have been refining the idea to create the highest performance designs ever available. These designs are now available.
We expect that many of our competitors, as well as individual "pundits" with their own personal agenda's, will have to respond, as the choice is to re-define their theories, or get left behind. This might make for many ugly words being said, tales of lies and false data, but the theories now applied and available from the Micron Serpent headers, just like the gasoline engine, are here to stay, no matter how much "kicking" and "screaming" is done by the market. Consider the facts, review the data, and welcome yourself to the future of ultra high performance exhaust technology.
Design: Serpent headers are most noted for the "flat" primary bends at the critical first bend of the downpipes. In fact, Serpent headers involve many different technologies and unique design features, as well as the most advanced manufacturing process in the exhaust industry. Full, non-linear tapers running from the exhaust port, thru the Serpent bend, to the downpipe is only one of many Micron Serpent exclusives. To see only the "flat" bend is like having a fender from a car and thinking you have seen the whole vehicle. Serpent headers involve multiple technologies operating on many levels, producing maximum horsepower, as well as their incredibly unique appearance.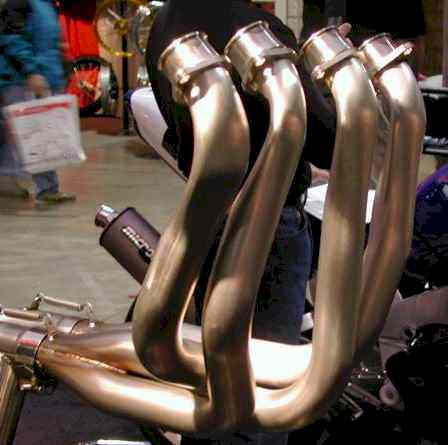 Technology:

No longer do our engineers have any design limitations when it comes to the exhausts they want to produce.

Where our competitors are stuck buying and trying to re-work standard mill tube sizes, Micron Serpent headers can mold any size tube the design calls for to maximize performance.

Where our competitors have to weld their taper sections into place and disrupt gas flow, Micron Serpent headers are beautifully molded tubes without the power robbing disruptions caused by excessive welding. Where our competitors systems have to use thicker and heavier tubing, or risk breaking their welds, Micron Serpent headers can be molded ultra thin and still maintain absolute reliability and durability. And where our competitors have to deal in the limitations of design constrained by old world bending machines, Micron Serpent headers now explore designs only dreamed of in the past, as we can create any tube shape that performance dictates.

Weight: Serpent headers use the Hydratech process to mold the finest performance products available, and thus also eliminate the unsightly and power robbing welds associated with multiple piece, old style bent round tube systems. More importantly, since there is minimal need for welding of round tube sections together (as many of our competitors products have to do), pipe material is minimized for maximum weight savings and uninterrupted flow. The Serpent header for the 929 weighs just over 7 lbs, and this includes the spigots and flanges! We utilize long lasting T-304 stainless for our pipesets, instead of the less durable, less reliable and more expensive thin titanium systems of other companies, the result being that Serpent headers are incredibly lightweight while maintaining the reliability, durability and price sensibility you expect from Micron.

Fit: Although some newer riders who have not played in the aftermarket exhaust world for long may not fully appreciate this, Serpent headers represent an all new approach to fit and installation. Since Serpent headers are "molded", Serpent headers fit correctly, and fit correctly every time. The days of struggling with poorly bent tubing, or mis-bent pipes are history, as well as the associated power losses or bike damage that goes with these poorly manufactured products. Since this is a "molded" pipe, when the first one fits, they all fit. Tolerances can be extremely precise to maximize performance, without any installation nightmares for our customers. We cannot stress how important this is to our customers, because it also means the following:

Duplication: Some ill informed people claim that "so and so" has something different then what is sold to the regular customer, and thus you cannot rely on a performance company's data because the pipe is a "special" design, different then what you would ever be able to get. This might have been true in the past, and possibly is still true for many of our competitors products.

Micron is here to say that Serpent headers are the end to all this nonsense. Serpent headers are exact duplicates of each other, and thus each, and every one is the same as the one before it. For the first time in the history of ultra high performance Micron is offering a "level" playing field in the world of exotic exhaust designs, a field which is no longer only for the elite few with deep checkbooks. If a Serpent race header being used by a race team and producing the incredible results which they do, and the same part number is available for sale, anyone who wishes to have one is welcome to purchase one. Not a pipe which is "close", and not a pipe which is "sort-of" like the real one (as our competitors might or might not offer), but another from the same mold that created the first one. Any company can build 1 or 2 of some "special" exhaust that you will never be able to buy, but only Micron is able to offer 1 (or 1000) of the exact same ultra high performance product for anyone who wishes to have one. You know when you buy Micron you are getting the absolutely finest product available, the same one that the highest performance teams use on their machines. No competitor we know of has this capability, only Micron has the ability to combine the ultra performance with exact duplication, and these facts alone are enough to turn the performance world upside down.

We are taking what used to be a "one off" world and making it available to anyone who wishes to have it. No other company has ever offered this to the regular customer, and again Micron leads the way.

Pricing: Serpent headers involve massive amounts of R&D, as well as huge investments in manufacturing machines and molds, but the end result is a product which can be produced easily and consistently as many times as we need it. Thus, we are able to offer performance levels unseen in the old world of bent tube exhausts products before, at extremely reasonable prices. Sure, there is probably someone out there who can try with all the knowledge they have of one bike to try and match the performance of a Serpent header by hand crafting one or two "super special" systems for some outrageous amount of money, but can they make 500 of them exactly the same, for any model bike they choose and sell them at a reasonable price to anyone who asks? We are not disputing that there will always be a Lamborghini or a McLaren, and the people who like, and can afford, to buy such products. But paying 50% more money for less performance just to have a "name badge" on your muffler is a choice you have to make. Make your decision as you see fit for your machine, but Micron Serpent headers are the highest performance and technology available from any exhaust company, no matter how much image one might want to sell you, or others might want to you pay.

Availability: Serpents headers for the Honda 929 are now available, with the Yamaha YZF-R1, Kawasaki ZX-12R, Honda CBR600-F4i and Suzuki GSXR-750 & GSXR-1000 hot on its heels for release in the coming weeks. We then intend to follow up with Serpent designs for the Suzuk GSXR-600, Suzuki GSX1300-R Hayabusa. Look for these to release as the designs are completed.

Read the graphs, study the designs, open your thoughts and understand why the performance world is abuzz about these designs.

We think you will not only be impressed, but thoroughly pleased with what we are now able to offer.

Welcome to the future of exhaust systems, and the future is the Micron.
The exclusive and patented Micron Serpent headers are available on a very limited basis for a handful of the finest high performance machines, please contact us for updates on availability and options.
RACE TEAMS AGREE:
"We at the Castrol Honda British Supersport Team like to use the best products that are available to us. That is why we choose Micron. After running tests with other leading manufacturers we found the Micron systems to be the BEST. Not only do the pipes make the best of the CBR600 power characteristics but the support and ongoing development from Micron, is one that you can always rely on."
Roger Harvey - Honda UK Race Coordinator

---
"The Micron Systems transformed our season. We were struggling with fuel management but when we fitted the Micron system we were not only able to cure our problems but also gain a significant performance increase. We finished the year 1st Production Superbike and also won the Superbike manufacturers trophy. We wouldn't use any other system on our CBR900 or CBR600. We want to win."
Brad Bennett - Team Manager Honda Australia

---
"Young Sanyo hotshots Chris Vermeulen and Glen Richards were helped considerably by the increased performance given by the Micron exhausts fitted to ALL Sanyo - Honda bikes. Micron proved great on performance, very reliable, no breakages, and together with excellent R&D facilities and race support means Micron continues to be our Number 1 choice."
Russell Savory - Sanyo First National Honda

---
"Micron proved to be the best for us on the Production Yamaha R1 giving excellent power and torque. Micron's race back up is the best in the country. Together at the 2000 Isle of Man TT we proved to be a winning combination for the second year running."
David Jefferies - 2 Time Isle of Man TT Production Winner

<< - RETURN TO MICRON PRICE SHEET
Micron Higher Level of Craftsmanship and Quality -
Our slip ons are a very clean, finished look that matches up right to the existing hardware. Construction of the canisters is also important, as these are the pieces
which have to hang out in the elements and take the abuse. Our
canisters are constructed of twin polished T-304 (aircraft quality)
stainless steel endcaps, stainless steel interior tube, and even the
band which wraps around the canister is polished stainless steel. There
are no rivets on the Micron canister sleeves, beware of these as with
the big thumping pulses of the V-Twin you can rattle these types loose
and cause damage to the canisters very quickly, as well as making
re-packing a much bigger chore. Microns use a 4 bolt end cap, which
makes the task of rebuild an easy, few minutes job. We know that many
companies will say that they use "this or that" to secure the rivets,
but the bottom line is that these are just layers of fixes to a poor
design. The canister sleeve should not be used as a structural member
of the canister, and that is that.
The Slip-ons are available in either the standard or the high position,
and unlike our competitors, we do not charge extra for the 4" of tube.
Best of all our high position canisters are mounted with a bracket back
fixture (no band around the canister), so they are as high and tight as
possible, and give the machine a wonderfully neat, clean and "race"
appearance, while following the line of the tail section beautifully. To
get this ultra trick look you do lose the rear passenger pegs, but this
is a minor trade-off for what is the best looking product ever! Unlike
many of the high position canisters which are not really "high", or
worse they do not follow the line of the tail (and make the machines
look very awkward), Micron makes your machine look as good as it
sounds. The turn signals are retained with a Micron supplied laser cut
bracket system, again keeping the look of the bike very clean and
professional. And to top this all off, our heat shields are integral
and bolt onto the pipeworks, unlike many of our competitors products
where they charge extra and then ask you to use "tacky" muffler clamps
to attach them, only showing how little effort these companies put into
the quality of their designs. We take great pride in offering both the
finest in appearance, as well as the highest quality products you can
purchase, since this is one of the highest performance machines
available to the public and thus deserves the finest products
available. All you need to do is specify which position you need when
you place your order, or call us if you have any further questions.
Quality also means that even although everything looks nice coming
across the parts counter when new, what materials are used will tell you
how long your hard earned money is going to keep in the real world of
use. Constructed using polished stainless steel endcaps, a stainless
steel interior tube and a sleeve with no rivets to rattle loose or wreck
the carbon fibre as many of our competitors set-ups do means that the
Micron product will outlast any "coating" or plating seen yet. We know
of no other company offering this level of quality, as well as
performance. Simple to install, lighter weight then stock and great
sounding make the Micron slip-ons one of the best additions you can make
for very little money.
The Full Systems - are of course where the higher level of performance
gains are to be had, since just like an automobile, HP is made in the
headpipes, not in mufflers. Best of all, not only is the header of the
highest quality stainless (yes, there are "cheap" grades of stainless
that are not T-304), but the choices of canisters are also constructed
of twin polished stainless endcaps, a stainless steel interior tube, and
again even the bands which wrap around the canisters are polished
stainless steel. In addition there are no rivets on the Micron canister
sleeves, beware of these as you can rattle these types loose and cause
damage to the canisters very quickly with the massive pulses of this
particular machine. Microns use 4 bolt end caps, which also makes the
task of rebuild an easy 10 minute job. We know that many companies will
say that they use "this or that" to secure the rivets, or a "special"
carbon fibre sleeve, but the bottom line is that these are just layers
of fixes to a poor design. The canister sleeve should not be used as a
structural member of the canister, and that is that. Our competitors
products look nice coming across the parts counter, but if you are going
to drop your hard earned money on a product, then it should be of a
quality level which will last and look good like you expect it to. No
coating, seal or wrap is going to last like T-304 stainless, no matter
what someone tells you. See if anyone else who has these credentials
can say that!
Also Note Micron standards are to retain OEM fit and finish. This includes the easy access to Oil Filters, Drain Plugs, and such. No Melting of the bodywork. No cutting of the bike or SPECIAL Brackets.... all of which are found on poor quality systems.
Example - CBR929RR Headers are rounted AROUND the OilFilter. Eliminating the Annoying and Very Time consuming task of Removing the Header Pipes to gain access to the Oil Filter.
<< - RETURN TO MICRON PRICE SHEET
For More Information and availability, Call or E-Mail Us.