ORDERS:
704-799-2192



BIKE SPECIFIC
PARTS PAGES
FOR NEW
'03-'22 Models
(Grom, Monkey
Z125, RC390,
R3, R1, R6,
ZX-10, ZX6
CBR's, GSX-R's
& more)



"VIC" Repeat
Customer Discount
Program
---
TOP SELLERS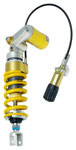 Ohlins Shocks,
Forks, & Dampers




Antigravity Superlight
Lithium Batteries
---
PRODUCT CATEGORIES

Air Filters
Engine Parts

Exhaust

Fairing Stay
Head Set Communications

Helmets
Mirrors / Mirror Block Off Plates
Race Stands

Radar Detectors

Radiator Hose Kits
Tank Traction Pads / Stomp Grip
Throttle Lock / Cruise Control
Tire Pressure Monitoring (TPMS)
Windscreens

Zombie Target

NecksGen

"VIC" Repeat
Customer Discount
Program





LED PERIMETER HALO LIGHT KITS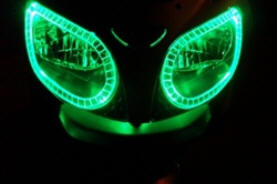 LED PERIMETER HALO LIGHT KITS

This is our first generation of LED Perimeter Halo Eyes NOW YOU CAN ADD COLOR CHANGING MULTI-FUNCTION
REMOTE CONTROL STROBE,FLASH,FADE -Incredible concept for your SPORTBIKE. Installs inside the headlight
unit IN MINUTES. The end result is incredible. Choose from 8 different colors!

-These Perimeter Halo Eyes Feature:
-Super bright LED technology. (Please note that when riding with PERIMETER HALOS the light emitted from halos will
only be slightly visible due to the running/high beam lights function)
-Grade "A" quality material.
-Choose from the following colors: red, blue, green, amber, white, orange, pink,purple OR COLOR CHANGING .
-Stunning and unique look with the perimeter of the headlight emits an LED colored light.
-No fairing modifications required
-A toggle switch that can be mounted almost anywhere so that Perimeter Halos can be turned on or off with a flip of the
switch, even if the bike is turned off.
- IF YOU LIKE ADD A MULTI FUNCTION REMOTE CONTROL FOR SINGLE COLOR ONLY ADDITIONAL
-1 year manufacturer limited WARRANTY
-Includes technical support phone number for any installation questions
-Easy installation
-Get em... mount them in... mount switch.... wire them to the battery.... you got the LED Perimeter Halos on your bike!
-Will turn heads, these are amazing!


| | | | | |
| --- | --- | --- | --- | --- |
| MAKE/MODEL | YEARS | PIC | RETAIL | SALE PRICE |
| HONDA | | | | |
| CBR250 R | '11-'12 | PIC | $94.49 | $75.99 |
| CBR F4I | '01-'06 | PIC | $94.49 | $75.99 |
| CBR600 RR | '03-'06 | PIC | $94.49 | $75.99 |
| CBR954 RR | '02-'03 | PIC | $94.49 | $75.99 |
| CBR1000 RR | '04-'07 | PIC | $94.49 | $75.99 |
| CBR1000 RR | '08-'11 | PIC | $94.49 | $75.99 |
| | | | | |
| KAWASAKI | | | | |
| ZZR600 | '05-'08 | PIC | $94.49 | $75.99 |
| ZX6R | '98-'02 | PIC | $94.49 | $75.99 |
| ZX6R | '03-'04 | PIC | $94.49 | $75.99 |
| ZX6R | '05-'06 | PIC | $94.49 | $75.99 |
| EX650R | '09-'10 | PIC | $94.49 | $75.99 |
| Z1000 | '10-'11 | PIC | $94.49 | $75.99 |
| ZX10R | '04-'05 | PIC | $94.49 | $75.99 |
| ZX10R | '11-'12 | PIC | $94.49 | $75.99 |
| | | | | |
| SUZUKI | | | | |
| GSXR 600/750 | '04-'05 | PIC | $94.49 | $75.99 |
| GSXR 600/750 | '06-'07 | PIC | $94.49 | $75.99 |
| GSXR 600/750 | '11-'12 | PIC | $94.49 | $75.99 |
| SV 650/1000 | '03-'07 | PIC | $94.49 | $75.99 |
| GSXR 1000 | '03-'04 | PIC | $94.49 | $75.99 |
| GSXR 1000 | '05-'06 | PIC | $94.49 | $75.99 |
| GSXR 1000 | '07-'08 | PIC | $94.49 | $75.99 |
| GSXR 1000 | '09-'12 | PIC | $94.49 | $75.99 |
| GSXR 1300 | '99-'07 | PIC | $94.49 | $75.99 |
| GSXR 1300 | '08-'12 | PIC | $94.49 | $75.99 |
| | | | | |
| YAMAHA | | | | |
| R6 | '98-'02 | PIC | $94.49 | $75.99 |
| R6 | '03-'05 | PIC | $94.49 | $75.99 |
| R6S | '06-'08 | PIC | $94.49 | $75.99 |
| R6 | '06-'07 | PIC | $94.49 | $75.99 |
| R6R | '08-'11 | PIC | $94.49 | $75.99 |
| FZ6 | '04-'10 | PIC | $94.49 | $75.99 |
| R1 | '02-'03 | PIC | $94.49 | $75.99 |
| R1 | '04-'06 | PIC | $94.49 | $75.99 |
| R1 | '07-'08 | PIC | $94.49 | $75.99 |
| FZ1 | '01-'05 | PIC | $94.49 | $75.99 |
| | | | | |