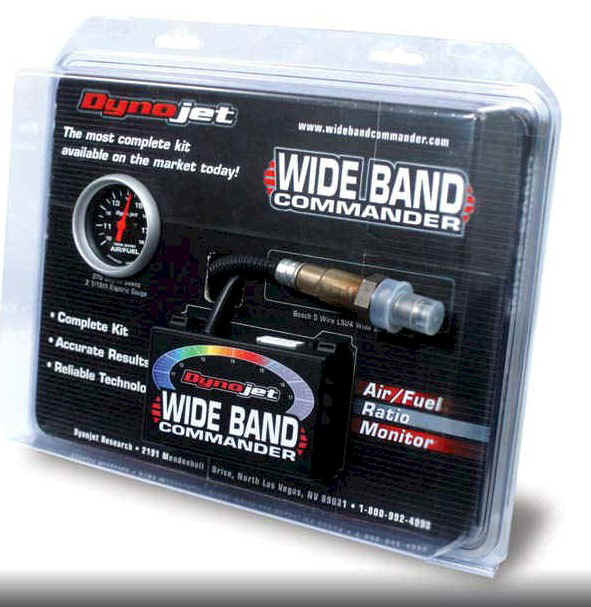 d

AIR/FUEL RATIO MONITOR

Ever Wish you could make your OWN Custom Map??
Now you can. Exactly the way you want it. And you can Go back and
Change it and adjust it all you want.

Why pay all that money to A Dyno Tuning Center ?? When you
can do it yourself. For about the same price as a Most Tunning Centers
Charge, you can get a Wide Band Commander(WBC) and do it yourself.
Getting the settings just the way you like them, and know it was done right. Plus, Dyno's cannot take into account the effects of Ram Air.
Where as the WBC works on the bike, while your ridding, Which DOES
Take into account the Ram Air, allowing for a More Accurate Map.
More Accurate Maps, Give you MORE Horsepower.


This is the most complete kit available on the market today!

As the world leader in motorsports chassis dynamometers and diagnostic equipment, Dynojet Research Inc. is pleased to announce the Wide Band Commander. The Wide Band Commander is a tuner's best friend. It provides a complete picture for proper air-to-fuel ratio analysis. Unlike many "Air/Fuel Systems" on the market that use inferior narrow band technology, this unit has the capability to read from 10.0:1 to 18.0:1 using a Bosch 5 wire LSU4 wideband sensor. This is by far the most complete kit available on the market today.

THIS CAN AND HAS BEEN INSTALLED ON MOTORCYCLES.
Great news. More and More Stock and Aftermarket Motorcycle Systems are coming with O2 Sensor Bungle already
welded on the Exhausts Systems from the Factory. Namely, 80% of Akrapovic Evo & Race Systems, The Micron Serpents
CBR1000RR...etc..etc What this means, is install is a snap. Simply Scew in the Wide Band O2 Sensor, and your good to go.
No Welding required. Simple Wiring, required to finish the install and your are on your way. Once installed, the Wide Band Commander provides an "in-vehicle" dash mount AFR display gauge with a built in warning light, as well as data recording which can be retrieved and analyzed using the supplied software package.
PLEASE NOTE: THIS SYSTEM DOES NOT CHANGE FUEL PARAMETERS.
IT MONITORS/ANALIZES/RECORDS THE DATA PROVIDED BY THE WIDE BAND O2 SENSOR.

>>
<<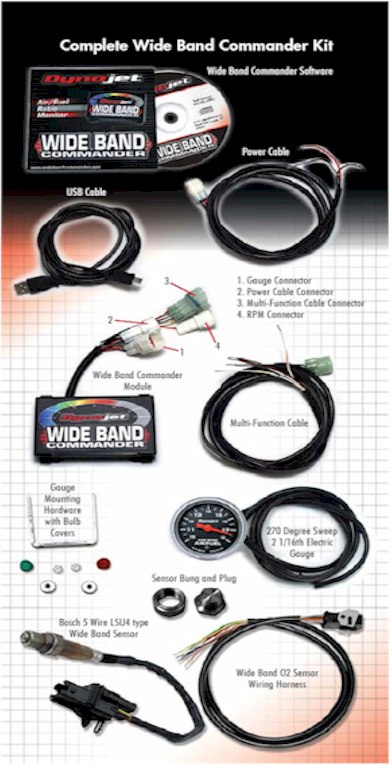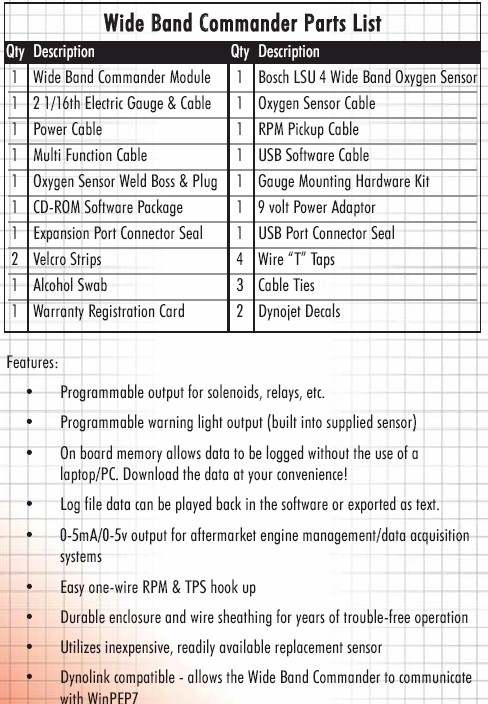 PLEASE NOTE: THIS SYSTEM DOES NOT CHANGE FUEL PARAMETERS.
IT MONITORS/ANALIZES/RECORDS THE DATA PROVIDED BY THE WIDE BAND O2 SENSOR.
• Programmable output for solenoids, relays, etc.
• Programmable warning light output (built into supplied sensor)
• On board memory allows data to be logged without the use of a laptop/PC.
• Download the data at your convenience!
• Log file data can be played back in the software or exported as text.
• 0-5mA/0-5v output for aftermarket engine management/data acquisition systems
• Easy one-wire RPM & TPS hook up
• Durable enclosure and wire sheathing for years of trouble-free operation
• Utilizes inexpensive, readily available replacement sensor
• Dynolink compatible - allows the Wide Band Commander to communicate with WinPEP7
• THIS CAN AND HAS BEEN INSTALLED ON MOTORCYCLES.
Great news. More and More Stock and Aftermarket Motorcycle Systems are coming with O2 Sensor Bungle already
welded on the Exhausts Systems from the Factory. Namely, 80% of Akrapovic Evo & Race Systems, The Micron Serpents
CBR1000RR...etc..etc What this means, is install is a snap. Simply Scew in the Wide Band O2 Sensor, and your good to go.
No Welding required. Simple Wiring, required to finish the install and your are on your way.







>>

<<

Retail Price - $559.95 SALE PRICE - $385

15-7001 Wideband Commander - BLACK FACE Gauge
__________________________________________________________________

15-7002 Wideband Commander - WHITE FACE Gauge



WIDE BAND COMMANDER SPECIFICATIONSS

Power Requirement: 11-15 VDC, 3A

Dimensions: 4.095"w x 2.82"h x .985"d

Sensor: Bosch LSU 4

Inputs:

Throttle Position 0-5 VDC

RPM Pickup Square wave, 0-12 V nominal (coil (-) tachometer signal)

Data Logging Switch Switch to 12V, 7mA

Outputs:

Range (gasoline) 10-18 lb air/ lb fuel

Gauge 0-10 VDC analog.

Data Acquisition Link 0-5 mA or 0-5 VDC analog

Solenoid Output 2A (sinks to ground; does not Source 12V)

Computer Connectivity: USB 2.0, Windows 98se/ME/2000/XP Computer required

Dynojet Dyno Connectivity: TTL serial (Accessory cable required)

Onboard Memory: 256K Byte serial EEPROM

Sampling rate 10 samples per second

Time Limit Approximately 10 minutes

Operating Temperature: -20°F to 120°F

>> <<