ORDERS:
704-799-2192



BIKE SPECIFIC
PARTS PAGES
FOR NEW
'03-'22 Models
(Grom, Monkey
Z125, RC390,
R3, R1, R6,
ZX-10, ZX6
CBR's, GSX-R's
& more)



"VIC" Repeat
Customer Discount
Program
---
TOP SELLERS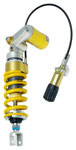 Ohlins Shocks,
Forks, & Dampers




Antigravity Superlight
Lithium Batteries
---
PRODUCT CATEGORIES

Air Filters
Engine Parts

Exhaust

Fairing Stay
Head Set Communications

Helmets
Mirrors / Mirror Block Off Plates
Race Stands

Radar Detectors

Radiator Hose Kits
Tank Traction Pads / Stomp Grip
Throttle Lock / Cruise Control
Tire Pressure Monitoring (TPMS)
Windscreens

Zombie Target

NecksGen

"VIC" Repeat
Customer Discount
Program





PLAZMA LED HALO LIGHT KITS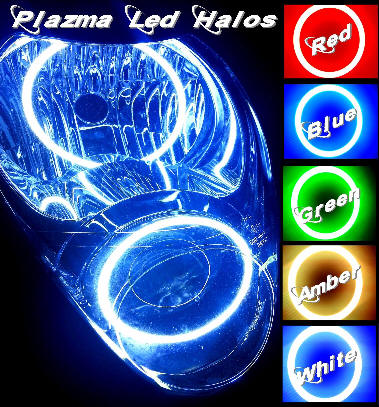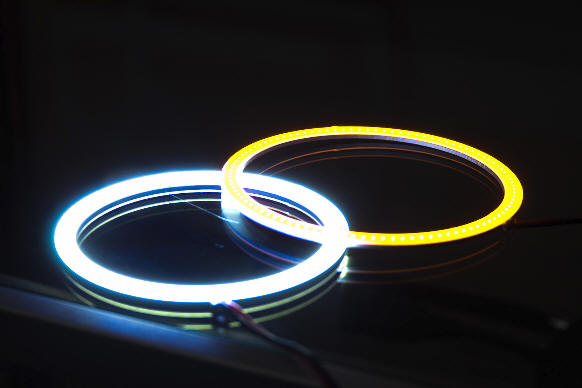 Plazma LED Halos

Long gone are the days of having to decide between hotspots on LED SMD rings and the un-uniform
gap on CCFL halos... enjoy the solid light display of "Plazma."
With our new Plazma style LED rings you are getting the best of everything that technology has to offer.

Product Features:
-These halos feature hundreds of semi conductors which make direct contact to the circuit board essentially
turning the entire ring into one LED. This advancement in technology not only allows for a higher light output
but also appears as one solid ring of light when powered on out shinning any halo you've seen before.
-Appearance is never an issue with the slimline design. These rings are mounted on a PCB board only 2mm thick.
-Don't expect to have to replace these rings any time soon! Plazma's have a lifespan of 100,000 hours.
-Available in White, Red, Amber, Blue and Green

Product Includes:
-Either 1 (single), 2 (dual), 3 (triple), or 4 (quad) rings depending on purchased kit and specified in listing title.
-On / Off toggle switch. (Remote Control upgrade available in drop down.)
-All necessary hardware for installation.
-Installation instructions.
-1 year manufacture warranty.
-Lifetime technical support.

Remote Control Options:
-Kits are sold without remote control units and can be used with your pre-existing Sportbike Lites lighting
products. If you would like the option of having a wireless remote control you will need to select this in the drop
down menu option.
-Single Color Multi-Function Remote: You will have full control at all times what custom rhythm your lights are
pulsating at. For example strobe, breathe, fade, flash etc. Functional up to 100 ft away. Light weight with a
key chain attachment.
-2 Channel Single Color Remote: You will be able to have your lighting products flash back and forth to each
other or at different times or speeds. These will also cycle through all the different flash functions as the
single color multi function remote.


| | | | |
| --- | --- | --- | --- |
| MAKE/MODEL | YEARS | RETAIL | SALE PRICE |
| HONDA | | | |
| CBRF4I DUAL | '99-'00 | $136.49 | $123.49 |
| CBRF4I DUAL | '01-'07 | $136.49 | $123.49 |
| CBR600RR DUAL | '03-'12 | $125.99 | $113.99 |
| CBR600RR QUAD | '03-'12 | $167.99 | $151.99 |
| RC51 DUAL | | $136.49 | $123.49 |
| CBR 929RR SINGLE | '00-'01 | $68.24 | $61.74 |
| CBR 929RR DUAL | '00-'01 | $125.99 | $113.99 |
| CBR 929RR TRIPLE | '00-'01 | $157.49 | $142.49 |
| CBR 954RR SINGLE | '02-'03 | $68.24 | $61.74 |
| CBR 954RR DUAL | '02-'03 | $125.99 | $113.99 |
| CBR 954RR TRIPLE | '02-'03 | $152.24 | $137.74 |
| VFR800 DUAL HIGH | '02-'08 | $125.99 | $113.99 |
| VFR800 QUAD | '02-'08 | $178.49 | $161.49 |
| CBR1000RR DUAL | '04-'07 | $125.99 | $113.99 |
| CBR1000RR DUAL | '08-'11 | $131.24 | $118.74 |
| CBR1000RR DUAL | '12-'13 | $131.24 | $118.74 |
| FURY SINGLE | '09-'11 | $68.24 | $61.74 |
| VTX1300 DUAL | | $68.24 | $61.74 |
| VTX1800 DUAL | | $68.24 | $61.74 |
| | | | |
| KAWASAKI | | | |
| Z125 PRO SINGLE | '17-'18 | $89.99 | $62.99 |
| EX250R DUAL | '08-'10 | $125.99 | $113.99 |
| ZX6R DUAL | '98-'02 | $136.49 | $123.49 |
| ZX6R DUAL | '03-'06 | $131.24 | $118.74 |
| ZX6R DUAL | '07-'12 | $125.99 | $113.99 |
| ZZR600 DUAL | '05-'08 | $136.49 | $123.49 |
| EX650R DUAL | '06-'08 | $125.99 | $113.99 |
| EX650R DUAL | '09-'10 | $125.99 | $113.99 |
| ZX7R DUAL | '96-'03 | $131.24 | $118.74 |
| ZX9 DUAL | '97-'03 | $136.49 | $123.49 |
| Z1000 DUAL | '03-'09 | $131.24 | $118.74 |
| Z1000 DUAL | '10-'12 | $128.09 | $115.89 |
| ZX10R DUAL | '04-'05 | $124.95 | $113.99 |
| ZX10R DUAL | '06-'10 | $125.99 | $113.99 |
| ZX10R DUAL | '11-'12 | $131.24 | $118.74 |
| ZZR1200 DUAL | | $136.49 | $123.49 |
| ZX12 DUAL | '01-'05 | $136.49 | $123.49 |
| ZX14R QUAD | '06-'13 | $163.79 | $148.19 |
| | | | |
| SUZUKI | | | |
| GSXR 600/750 DUAL | '04-'05 | $129.14 | $116.84 |
| GSXR 600/750 DUAL | '06-'07 | $129.14 | $116.84 |
| GSXR 1000 DUAL | '03-'04 | $129.14 | $116.84 |
| GSXR 1000 DUAL | '05-'06 | $136.49 | $123.49 |
| GSXR 1000 DUAL | '07-'08 | $125.99 | $113.99 |
| GSXR 1000 DUAL | '09-'11 | $125.99 | $113.99 |
| GSXR 1300 DUAL | '99-'07 | $129.14 | $116.84 |
| GSXR 1300 SINGLE | '99-'07 | $62.99 | $56.99 |
| GSXR 1300 BUSA DUAL | '08-'12 | $128.09 | $115.89 |
| KATANA DUAL | '03-'07 | $136.49 | $123.49 |
| BOULEVARD M109 SINGLE | | $68.24 | $61.74 |
| | | | |
| YAMAHA | | | |
| FZ6 DUAL | '04-'09 | $125.99 | $113.99 |
| YZF R6 DUAL | '98-'02 | $136.49 | $123.49 |
| YZF R6 QUAD | '03-'05 | $157.49 | $142.49 |
| YZF R6S QUAD | '06-'10 | $157.49 | $142.49 |
| YZF R6R DUAL | '06-'11 | $131.24 | $118.74 |
| YZF R6 DUAL | '08-up | $131.24 | $112.99 |
| FZ1 DUAL | '97-'08 | $136.49 | $123.49 |
| YZF R1 DUAL | '98-'03 | $131.24 | $118.74 |
| YZF R1 QUAD | '04-'06 | $167.99 | $151.99 |
| YZF R1 DUAL | '07-'08 | $167.99 | $151.99 |
| YZF R1 DUAL | '09-'13 | $125.99 | $113.99 |
| RAIDER SINGLE | '07-'09 | $68.24 | $61.74 |
| WARRIOR SINGLE | '02-'09 | $68.24 | $61.74 |