ORDERS:
704-799-2192



BIKE SPECIFIC
PARTS PAGES
FOR NEW
'03-'22 Models
(Grom, Monkey
Z125, RC390,
R3, R1, R6,
ZX-10, ZX6
CBR's, GSX-R's
& more)



"VIC" Repeat
Customer Discount
Program
---
TOP SELLERS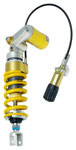 Ohlins Shocks,
Forks, & Dampers




Antigravity Superlight
Lithium Batteries
---
PRODUCT CATEGORIES

Air Filters
Engine Parts

Exhaust

Fairing Stay
Head Set Communications

Helmets
Mirrors / Mirror Block Off Plates
Race Stands

Radar Detectors

Radiator Hose Kits
Tank Traction Pads / Stomp Grip
Throttle Lock / Cruise Control
Tire Pressure Monitoring (TPMS)
Windscreens

Zombie Target

NecksGen

"VIC" Repeat
Customer Discount
Program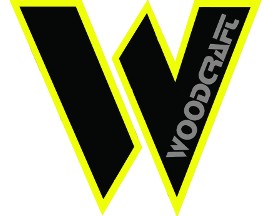 SEE ALSO WOODCRAFT Clip - Ons - WOODCRAFT Rear Sets


WoodCraft Products
"Designed by Racers for Racers"

Woodcraft Billet Engine Covers are designed to add strength,
protect your motorcycle and look great.

All WoodCraft Engine Covers are manufactured in the USA
out of the very best materials available.

WoodCraft Billet Engine Case Covers help ensure that when your bike hits the ground
the vital fluids stay inside the motor and the gravel will stay out,
allowing you to get back to riding as soon as possible.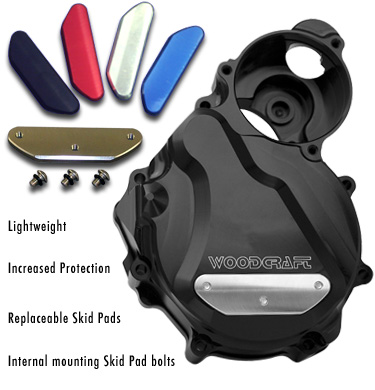 2-Piece Billet Case Covers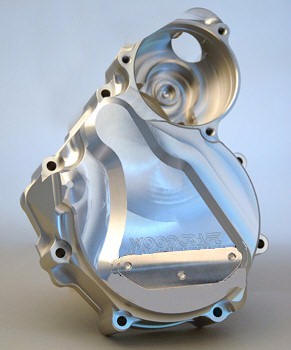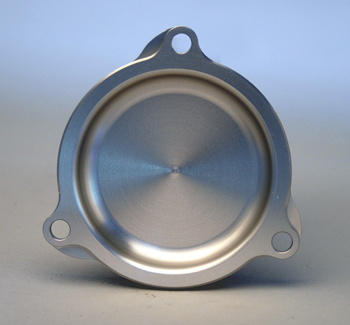 06-10 GSX-R600/750 Left Side Inner Cover & Outer Cover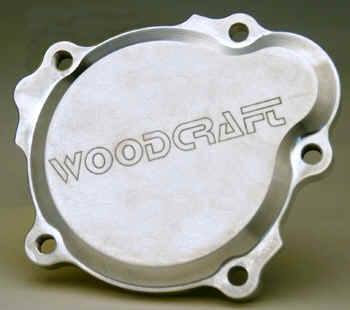 DURABLE:
Woodcraft 2 piece covers have a large stainless skid pad in the succeptible damage area to greatly increase their durability.
The stainless skid pad is far more abrasion resistant than the aluminum, and holds up extremely well in a crash.
REPAIRABLE:
Not only is the skid pad replaceable, but Woodcraft's exclusive internal bolting
makes sure that a crash will not leave you drilling out mounting bolts that have been ground smooth.
DETAILED:
Due to the abrasion resistance of the stainless steel, WoodCraft spends extra time on their covers
to make them super-light.


WoodCraft offers Billet Engine Case
Covers for most sportbikes


Large, internally-bolted stainless skid pads will keep your bike oil tight and looking great



All the details were covered, right down to O-ring sealed bolting that keeps hardware from getting damaged in a crash.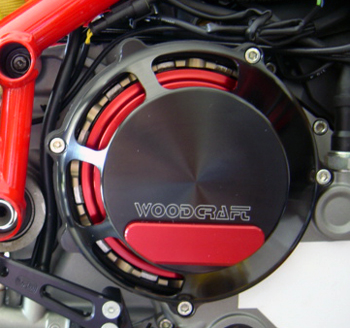 Aprilia

Application

Year

Left Side Cover

Price

Price

Repl.
Skid Pad

Right Side Clutch Protector ONLY


Price

Repl.
Skid Pad

RSV4

60-0740LB
Stator Cover Protector

$123.49

Protector
Only

60-0740RB
Clutch Cover Protector


$237.49

Protector
Only
BMW

Application

Year

LEFT SIDE
Cover

Price

Repl.
Skid Pad

RIGHT SIDE
Cover

Price



S1000RR



09-18


$

137.74

Protector
Only


YES


$137.74


S1000 R
14-18


$

137.74

Protector
Only
YES


$137.74


S1000 XR
15-18
YES


$137.74

DUCATI

Application

Year

RIGHT SIDE
Cover

Price

Repl.
Skid Pad

LEFT SIDE
Cover

Price

Repl.
Skid Pad


748-999

1098/1198

SuperSport/Sportclassic

Multistrada/Hypermotard






ALL





Complete Cover
60-0640RB






$161.49


YES


848

Monster 696/796/1100



ALL
60-0641RB
Clutch Cover Protector


$170.99
Protector
Only


1199 / 1299 / 959 Panigale

ALL
60-0645RB
Clutch Cover Protector

$161.49

YES
V4
ALL
60-0656RB
Clutch Cover Protector

$151.99

YES
60-0656LC
Protector
Only
$170.99

HONDA

Application

Year

Left Side Cover

Price

Price

Repl.
Skid Pad

Right Side Clutch Protector ONLY


Price

Repl.
Skid Pad

Grom/MSX125
'13-17
60-0305SC
Sprocket Cover
Black
Left Side
$66.49



CBR1000RR

'08-'09

60-0339LB
Left sides ONLY Fits '08-'09

$199.49





YES




CBR1000RR
'10-'16
60-0341LCB
LHS Stator Cover


$123.49
Protector
Only

YES

60-0339RB

$113.99

Protector
Only
YES

CBR1000RR

'04-'07

Complete Cover
60-0337LB

$189.99





YES

60-0337

RB


$104.49
Protector
Only
CB1000R
'08-'15

Complete Cover
60-0337LB

$189.99





600RR

'07-'18

Complete LHS Cover
60-0338LB

$199

.49


YES

60-0338RB



$104

.49

Protector
Only

YES

600RR

'03-'06

Complete Cover
60-0335LB

$

208.99


YES

60-0335RB



$104.49



Protector
Only

YES

600RR

'

03

-'06

60-0334CLP


$113.99

Protector
Only

YES
Kawasaki

Application

Year

Left Side Cover

Price

Repl.
Skid Pad

Right Side Cover

Price

Repl.
Skid Pad

EX 400 Ninja

'18-'19

60-0144LC
Stator Cover
Protector


$142.49


YES
60-0144RC
Clutch Cover
Protector


$123.49

Protector
Only


YES

ZX-6R

'09-'18

Complete Cover
60-0147L-B
$199.49


YES

60-0149RI-B
Crank Cover
Protector


$113.99


Protector
Only

YES




60-0147RO-B
Idle Gear Cover
$71.24


NO

ZX-6R

'07-'08


Complete Cover
60-0147L-B
$199.49


YES

60-0147RI-B
Crank Cover

$90.24

Protector
Only

YES

ZX-6R

'07-'08




60-0147RO-B
Idle Gear Cover
$71.24


NO

ZX-636/6RR

'05-'0

6

LHS Stator Cover




60-0145LB

$218.49


YES

60-0145RB

$118.74


-

ZX-636/6RR

03-04

Left Main
60-0140LB

$217.55


YES

60-0145R

$118.74


-

ZX-10R

'

11-'18

60-0168LB
LHS Stator Cover

Shown with optional Double Thick Red. Alum. Pad

$208.99


YES

60-0168RB
RHS Ign. Trigger Cover


Shown with optional Double Thick Red. Alum. Pad

$142.49


-

ZX-10R

'06-'0

7
&
'08-'10
Complete Cover
60-016

5

L

B

$199.49


YES

60-016

5

RB

$80.74


-

ZX-10R

'06-'0

7
&
'08-'10

YES

60-016

5

RIB

Inner Cover

$199.49


-

ZX-10R

'04-'05

60-0160L-I


$197
Discontinued

YES

-

ZX-10R

'04-'05

60-0160L-O


Starter Idle Gear Cover


$53
Discontinued

-
KTM

Application

Year

Left Side Cover

Price

Price

Repl.
Skid Pad

Right Side Clutch Protector ONLY


Price

Repl.
Skid Pad

790 Duke

2018
60-0790LC
Stator Cover Protector

$151.99


Protector
Only

Yes

60-0790WPC
Water Pump Cover Protector


Yes
Suzuki

Application

Year

Left Side Cover

Price

Repl.
Skid Pad

Right Side Cover

Price

Repl.
Skid Pad

SV650

99-02

-
-

-

60-0220R

$151.99


YES

SV 650

03-12

60-0225RC Clutch Cover Protector Only

$170.99

YES

SV 650

16-19

60-0228RC
Clutch Cover Protector Only

$170.99

YES

SV 650

03-19

60-0228LC
Stator Cover
Protector Only

$151.99


YES

GSXR 600
GSXR750
GSX-R1000

'97-'05
'96-'05
'01-'08

RHS Crank Cvr Prot. Assbly Blk W/Skid Plate
60-0249RIB


$104.49



Protector Only


YES

GSXR 600

97-00

Complete Cover
60-0200L

$161


YES

60-0240R

$66.49


NO

GSXR 600

01-03

Complete Cover
60-0240L

$189.99


YES

60-0240R

$66.49


NO

GSXR 600

04-05

Complete Cover
60-0242L

$189.99




YES

60-0240R

$66.49


NO

GSX-R600
GSX-R750

'06-'18

60-0247LIB
INNER Cover

$359




YES

60-0247RB
Protector w/ Skid


$104.49



Protector Only

YES

GSX-R600
GSX-R750

'06-'18

60-0247LIC
Stator Cover


$132.99

Protector Only


YES

GSX-R600
GSX-R750

'06-'18

60-0247LOB
OUTER Cover

$56.99




--

GSXR 750

00-03

Complete Cover
60-0240L

$189.99


YES

60-0240R

$66.49


NO

GSXR 750

04-05

Complete Cover
60-0242L

$189.99


YES

60-0240R

$66.49


NO

GSXR 1000

'17-'18

Complete Cover
60-0252LB

$208.99


NO

60-0252RB
Clutch Cover Protector

$123.49

Protector Only

NO

GSXR 1000

'09-'16

Complete Cover
60-0250LB


$208.99



YES

60-0250RB
Clutch Cover Protector

$104.49



Protector Only


YES

GSXR 1000

'09-'16

60-0250CP
Stator Cover

$142.49

Protector Only

YES

GSXR 1000

'07-'08

Complete Cover
60-0245L

$189.99


YES

60-0240R

$66.49


NO

GSXR 1000

'05-'06

Complete Cover
60-0245L

$189.99


YES

60-0240R

$66.49


NO

GSXR 1000

03-04

Complete Cover
60-0242L

$189.99


YES

60-0240R

$66.49


NO

GSXR 1000

01-02

Complete Cover
60-0240L

$189.99


YES

60-0240R

$66.49


NO

Hayabusa

ALL

60-0270L
Non-Anodized or Black

$189.99


YES

N/A

-

-
Triumph

Application

Year

Left Side Cover

Price

Price

Repl.
Skid Pad

Right Side Clutch Protector ONLY


Price

Repl.
Skid Pad

675 Street Triple/R


2006-15




60-0500RB
Ignition Trigger Cover

$149.99


Yes

675

'13-17

60-0502LC
Stator Cover

Protector Only

$164.99

Protector Only

Yes

60-0502RB
Ignition Trigger Cover

Yes
675
All

60-0502RC
Clutch Cover Protector Assembly

Yes
Yamaha

Application

Year

Left Side Cover

Price

Repl.
Skid Pad

Right Side Cover

Price

Repl.
Skid Pad

R3
15-18
LHS Stator Cover
60-0403LCB


Protector Only

$132.99

YES
60-0403RC


Clutch Cover Protector Assembly

$199.49

YES

R6 / R6s

03-05

Complete Cover
60-0445LB

$218.49


YES

60-0445RB

YES

R6

'06-'07
&
'08-'18

Complete Cover
60-0449LB

$218.49


YES

60-0449RB

$123.49


YES

FZ07

'15-'18

LHS Stator Cover
60-0407LB
Protector Only

$151.99

YES

60-0407WPC

RHS Water Pump Cover

$142.49

YES
FZ 09
FJ 09
XSR 900
'14-18
'15-18
'16-18


60-0409LC


$161.49
Protector Only


60-0409RC

$186.19
Protector Only

FZ10
'17-18
60-0416LI


$123.49

Protector Only

60-0454RB


$94.99
Protector Only

FZ1
'06-12

60-0450LB

$90.24

Protector Only

YES

60-0450RB


$85.49





YES

R1

98-03

Complete Cover
60-0420LB

$189.99


YES

60-0420RB

$118.74


YES

R1

'04-'08

60-0450LB

$90.24

Protector Only

YES

60-0450RB


$85.49





YES

R1

'0

9-'14

$199.49



YES

60-0452RB



$129.19





YES

R1
'15-'18

$199.49

60-0454RB


$94.99
Protector Only


Call (704-799-2192) or E-Mail for Availability and Applications