ORDERS:
704-799-2192



BIKE SPECIFIC
PARTS PAGES
FOR NEW
'03-'22 Models
(Grom, Monkey
Z125, RC390,
R3, R1, R6,
ZX-10, ZX6
CBR's, GSX-R's
& more)



"VIC" Repeat
Customer Discount
Program
---
TOP SELLERS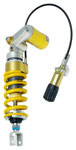 Ohlins Shocks,
Forks, & Dampers




Antigravity Superlight
Lithium Batteries
---
PRODUCT CATEGORIES

Air Filters
Engine Parts

Exhaust

Fairing Stay
Head Set Communications

Helmets
Mirrors / Mirror Block Off Plates
Race Stands

Radar Detectors

Radiator Hose Kits
Tank Traction Pads / Stomp Grip
Throttle Lock / Cruise Control
Tire Pressure Monitoring (TPMS)
Windscreens

Zombie Target

NecksGen

"VIC" Repeat
Customer Discount
Program







Galfer Brake Pads
Galfer Sport Bike Wave Rotors
Galfer SUPERBIKE Wave Rotors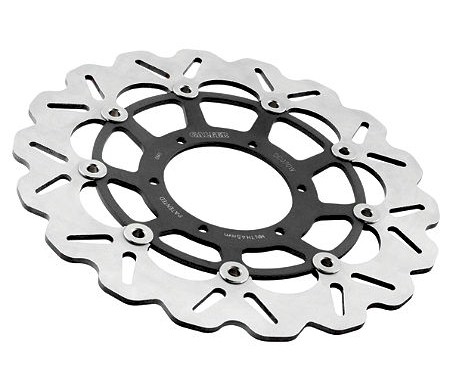 - GALFER Sport Bike Wave Rotors (For Street Use and Track Use)




+++++++++++++++++++++++++++++++++++++++++++++++++++++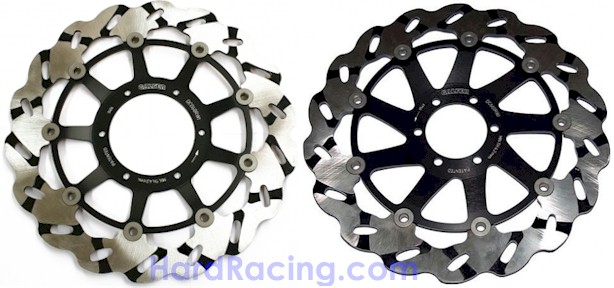 - GALFER SUPERBIKE Rotors (SUPERBIKE Rotors are NOT Recommend for Street Use)




Galfer brake rotors have set a new standard in the motorcycle industry because of their commitment to excellence and passionate pursuit of victory.
Galfer Wave rotors are made from a proprietary 420 high carbon stainless steel for increased memory retention during heat cycles providing maximum Performance.
To eliminate the stress on rotors that occurs from stamped manufacturing the Galfer Wave rotors are laser cut for precision performance and feel.
To ensure that you are receiving only the highest quality, Galfer tests their Wave rotors using their COSMOS analyzing system.
Galfer uses a patented Wave design that includes an inner Wave which equalizes heat transfer and dissipates heat much faster during aggressive motorcycle riding.
Galfer features full floating Wave blades which ensure optimum pad and rotor contact for maximum stopping force and feel.
Galfer's wave rotors were first introduced to the Motorcycle Industry for Trial bikes and then Snowmobile machines, soon to follow were Sport Bikes and ATV's as well as Off Road applications. All Galfer Wave rotors are laser cut and made of a unique high carbon 420 stainless steel material that has been pre-heat treated and parallel double disc grounded to assure perfect flatness and the most efficient contact surface between pad and rotor.

• Front Sport bike units are full floating and have an aluminum center carrier.
• Some front Off Road applications are full floating.
• All Wave rotors will improve the lever feel and feed back allowing the rider to get a much stronger and progressive brake then other units would. (Added trailing edge on the brake pad surface)
• Wave rotors are also great for keeping mud off the surface friction plate, allowing for the brake pads durability to be extended in muddy conditions. (Self-cleaning action)
• Most Wave applications are lighter than the original OEM rotors.
US Patent 6,386,340.

Why should you buy Galfer Wave Rotors:

• Cost less than OEM, OEM are not Wave.
• Used by many TOP race teams. Have the parts guy open any magazine.
• Galfer advertises in a constant basis in magazines such as MXA, Dirt Bike, Transworld Magazine, Dirt Wheels, Cycle World or Road Racing World. We are out promoting our products.
• Quality and longevity of the rotors, these are the "Ferrari" of the brake rotors.
• Easy to install.
• Galfer's unique 800 tech line to support ANY technicall questions that the dealer might have at any time regarding brakes or parts involved with the brake system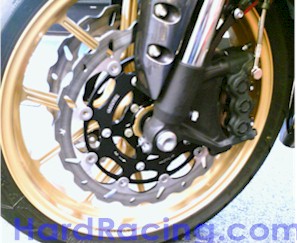 Wave Rotors

Galfer Brakes. Pads, and Lines are used by AMA SuperBike Champion Mat Maladin, and Factory Team Yoshimura Suzuki, as well as World Factory Suzuki - Corona Racing.
| | |
| --- | --- |
| Full Floating Rotors | Wave-1 Racing Rotors |

To See What the Best in the Business Use......
Click For SS Brake Lines ----> Galfer SS Brake Line Kits

GALFER ROTORS
WAVE - 1 SPORT BIKE ROTORS:

- Up to 4 pounds Lighter than Many OEM Rotors.

-Self cleaning and cooling action as it rotates.

-Full floating.

-Available applications for : 330mm, 320mm, 310mm, 300mm, 296mm,
Galfer has transitioned to BLACK Carriers On Most All models.

Retail - $669.00 / set of 2


SALE Price - $599.95 / set of 2



** Some Exclusions Apply, see Sales Associate for details




GALFER REAR Wave ROTORS
FLOATING Wave ROTORS
And
STANDARD Wave ROTORS

- Up to 1.5 pounds Lighter than Many OEM Rotors.

-Self cleaning and cooling action as it rotates.

Retail - $159 - $225
SALE Price - $119.70 + UP

Features:
Constructed of high carbon content stainless steel
CAD CAM laser cut
Can run up to 200 degrees less than stock rotors
Rotors are perfectly flat on both sides and are manufactured to be parallel to each other.
All Galfer rotors are manufactured with the aid of a computer for perfect tolerances
Diamond surface finishing system.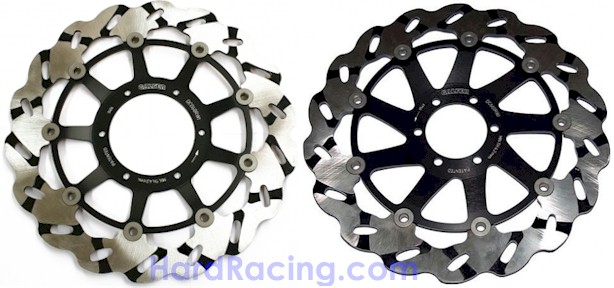 - GALFER SUPERBIKE Rotors (NOT Recommend for Street Use)

Retail - $989 / set of 2

SALE Price - $817.20 / set of 2
GALFER High Performance BRAKE PADS: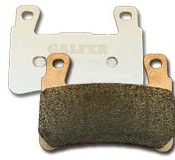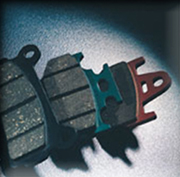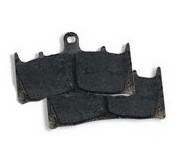 Click here for complete SALE PRICE for GALFER PADS
>> GALFER PADS <<
| | | |
| --- | --- | --- |
| KEVLAR 1532 | BLACK CARBON-ORGANIC 1052 | HH SINTERED |
Black Carbon Organic & Kevlar & HH - pads, you'll be using the same brake compounds used by several 125, 250, & 500 GP teams during the 1996 season. Galfer sells what they race. Fade free Galfer pads are easy on brake rotors, and last longer than comparable pads under racing and street conditions. The pads break in quickly, have unsurpassed feel at the lever and will not fade. They are the best choice for racing. Their pads are "the ones that bite harder". These pads work great on Street & Race.
(ONE Set = 1 ROTOR) - $29 - $59/set
To See What the Best Rider Use Click -> Galfer Brake Line Kits