---
- Individual SS Line Pricing -
Front (Dual Line) - $99.95 Rear - $59.95 Clutch - $62.95
---
---
COMPLETE SS "KIT" PRICES:
SS Complete Kit I * ( Dual Front & Rear) - $155, less 10% COMBO PRICE = $113.60

"Superlite" Kit I * ( Dual Front & Rear) - $195, less 10% COMBO PRICE = $146.80

WE ALSO HAVE ...SOME BLOW OUT SALE
INVENTORY REDUCTION.
ON THESE BIKES ONLY
Yamaha R1 04-05 (REAR ONLY) YELLOW - $29
---
Complete Kit II ** (Dual Front, Rear, and Clutch) - $215, less 10% COMBO PRICE = COMBO PRICE - $193.50

---
* SALE PRICES LISTED ABOVE ARE FOR SS LINE KITS w/ CLEAR PTFE JACKET, THAT ARE IN STOCK. ie(CBR600/929/954/1000RR, RC-51, GSX-R600/750/1000/1300,
ALL '99-'05 R1/R6, '04-'05 ZX-10R, ALL ZX-636/RR....etc....)
IF WE DON'T STOCK THE LINES FOR YOUR BIKE, THEN THEY ARE SPECIAL ORDER..
PRICES ARE ONLY AN ADDITIONAL $10 More For The Special Order.
- ALL KITS, INCLUDE NECCESSARY MTN. HARDWARE -
UPGRADE TO COLOR LINES Only - $2 More / per line.
Teflon (PTFE) Color Options -




GALFER High Performance BRAKE PADS: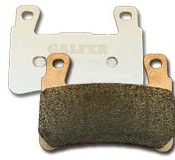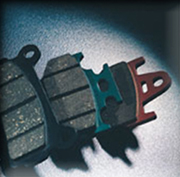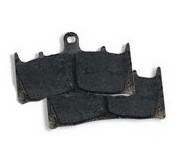 Click here for complete SALE PRICE for GALFER PADS
>> GALFER PADS <<

---
Call (704-799-2192) or E-Mail for Availability
** Complete Kit II is ONLY for Motorcycles that have a Hydraulic Clutch Line.
If your bike Doesn't have a Hydraulic Clutch, there is NO SS Line available.
~ PTFE Jacket is a Polymer/Teflon Based Coating on the outside to protect your bike from Scratches and Abrasions. The Color Lines are Semi-Transparent, so you can still see the SS Braided Line Inside.